Natalie Myers of Veneer Designs is good at budgeting both time and money. To furnish an LA vacation home for a British client, the designer had just six weeks between the close of escrow and his return to the UK. She outfitted a whole house, studio, and outdoor patio in that time, on a tight budget (and managed to finish one week early).
We like the the backyard patio and adjacent studio, which Myers turned into a space for "quiet, reflective reading or meditating during the day, and a hang-out space to eat, talk, and listen to music during the evenings."
Of the studio, she says: "I'm not sure why it was built originally, since it has no access to the main house, or plumbing, or insulation. It was pretty exposed, kind of like a sunroom." In keeping with the vibe, "We left it very barebones. More like a protected exterior room than a finished interior space."
Photography by Amy Bartlam courtesy of Veneer Designs.


Above: The studio is technically attached to the house, but there is no access between the two. The owner—who is both a pilot and a consultant in intellectual property law—uses it as an occasional home office, as well as "an area to watch the small propellor planes land and take off at the nearby Santa Monica airport."
The vintage midcentury daybed is from West Coast Modern in LA, and the X90 Coffee Table is from GloDea.
Above: To complete the project quickly, Myers eschewed custom furniture in favor of quick-ship pieces and vintage furniture she could source herself in LA. Her client loves quirky, Southern California midcentury design, which was convenient "since an immediate and economical way to furnish an entire house on a budget is with vintage furniture."
Here, a vintage cane chair with kilim pillow sits on an Ikea natural-fiber rug.
Above: Says Myers, "There is a greenhouse vibe to the studio. I started filling it with potted plants in the hopes the owner would take it to the next level and get to jungle mode in time."
Above: Two X30 Beach Chairs from GloDea flank an indoor palm against the back wall of the studio. Says Myers, "We knew we wanted to make this a feature wall but every idea we had proved too expensive or precious for the outdoor setting." Her solution was to cover the blank wall with a vintage embroidered cicim rug to add depth and texture. "Placing the potted plant against it with the two chairs creates an attractive area that really pops against the dark background of the textile," she says. She purchased the rug from Turkey via eBay.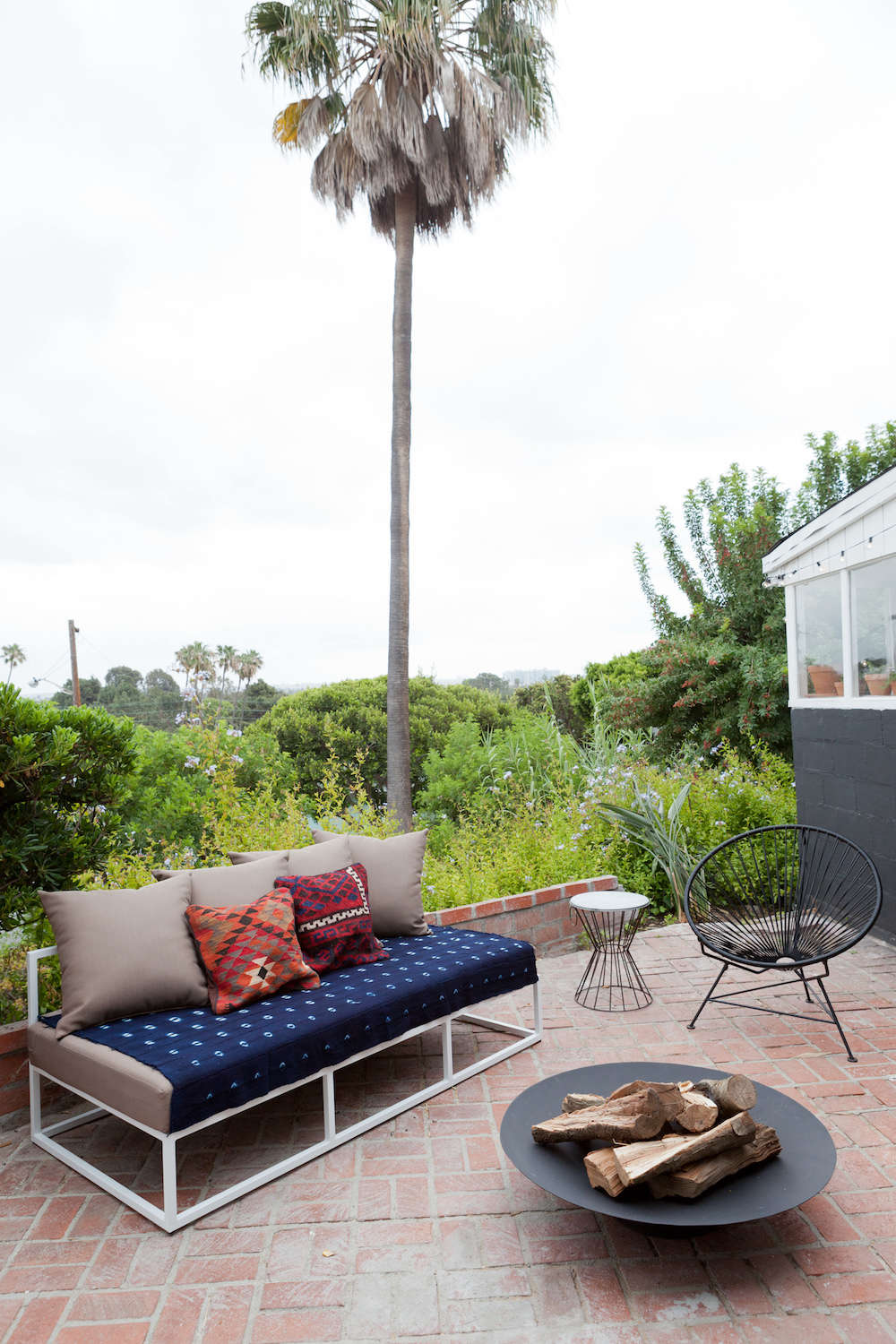 Above: Knowing the studio and patio would be used for both solo and social time, Myers ensured the furnishings would be flexible. "The seating and textiles inside the studio are durable and offer the flexibility to bring outside for larger groups on sunny days," she says. The iron Ember Fire Pit, made in India, is from CB2.
Above: The Casbah Loveseat from CB2 is made of powder coated aluminum. Myers furnished it with pillows and throws made of vintage German grain sacks, African mud cloth, and Turkish kilims, all purchased from the Long Beach Antique Market.

Above: Myers added an Innit Acapulco Lounge Chair in black from Wayfair.
Above: Myers strung the studio with Globe Lights from Restoration Hardware.
Above: The exterior black and white color scheme was already painted when the new owner arrived.
Above: From the main house, a vintage pouf and bent plywood stool look over the studio.
Above: The studio is attached to the house, at left.
For more, see recent outbuildings: Guest Cabana by Fowlkes Studio in Washington, D.C., and Tiny Cabins in Dark and Light.
(Visited 84 times, 1 visits today)