One exciting legacy of the London Olympics will be a new, modern public park for a city finally ready to shrug off the Victorian model, with its constraints of bandstands and island beds.
Instead, a 250-acre park will allow the River Lea to meander through the super meadows of the East End after the Games get underway on Friday. Even if you are immune to sport, there have been interesting cultural decisions around the Olympics to flicker some interest in this massive event, from Slumdog Millionaire director Danny Boyle directing the opening ceremony to the hiring of a couple of university professors to oversee the planting design of Olympic Park. James Hitchmough, professor of horticultural ecology, and Nigel Dunnett, professor of planting design and vegetation technology, both of the University of Sheffield, focus on perennials and annuals respectively. Long before her gold medal at this year's Chelsea Flower Show, Sarah Price was enrolled to bring her artistic eye to oversee the aesthetics of the whole arrangement.
Photographs by Antonio Olmos, for Gardenista.
Above: Beauty in the brutal. Security fencing behind, caged rocks in front, lovely swathes in the middle.
Above: The landscaping is allowed to relax around this part of the River Lea.
Above: A path for power-walking while breathing cleaner air. And looking at dandelions…The appearance of weedy wildflowers is reminiscent of Sarah Price's garden at Chelsea, which welcomed the traditionallly un-welcome.
Above: Leaden skies are a fact of life in London while color is not. The pink bridge and the red of Anish Kapoor's Orbit need the unusual vibrancy of meadow flowers.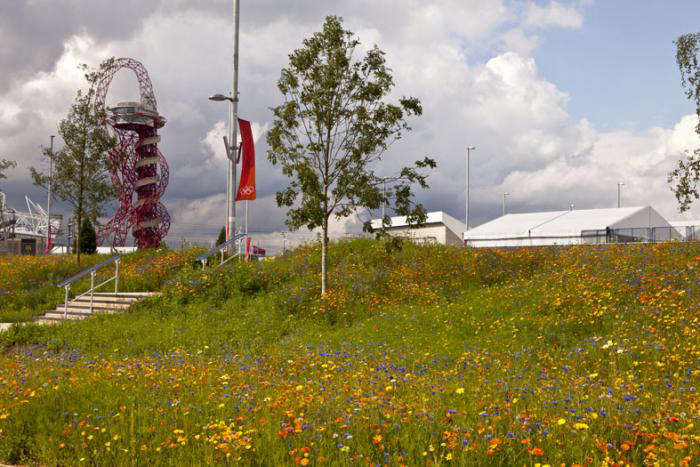 Above: Half of the park will include large swathes of planting. There will be open areas as well, so that Londoners will be able to continue their cherished custom of sprawling half-clad on the grass when the sun comes out.
Above: The Olympic Stadium flanked with hedges and pollarded trees. The addition of bright orange calendula makes it all sing.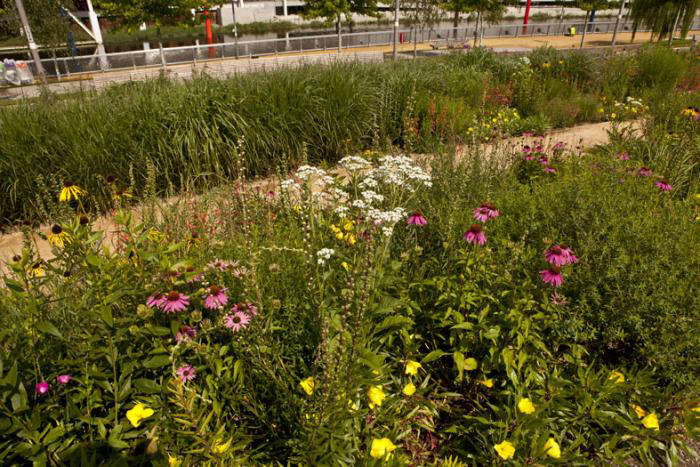 Above: Echinacea, achillea, rudbeckia, evening primrose.
Above: For more controlled color: echinacea with subtle vatiations of penstemon.
Above: Showing off its green credentials, the gardens are irrigated with 'gray' water.
Above: Cornflowers, rudbeckia, California poppies. Dr. Nigel Dunnett has developed many wildflower seed mixes with his Pictorial Meadows Seeds, for large-scale design and for ordinary people with gardens.
Above: The permanent planting is surrounded by ultra-slick buildings like Zaha Hadid's Aquatic Centre. This is one of the buildings which is staying put while the removal of others will double the size of the current park and will make way for new housing.
Above: Soft planting with very hard landscaping.
Above: A moonscape of grasses and daisies, softened by trees.
(Visited 67 times, 1 visits today)