Manufacturing outdoor furniture for the modern age, Duluth-based Loll Designs uses 100 percent recycled plastics to create a rugged, yet city-chic, outdoor collection. As spring approaches and we get ready to pull the protective covers off our outdoor furniture, here are our favorites Loll designs that pay homage to the classic Adirondack chair.
Above: Designed by Brendan Ravenhill, Loll's Deck Chair is made from 100 percent recycled high density polyethylene (plastic milk jugs). Like most Loll products, it's available in in Black, White, Red, Chocolate Brown, Leaf Green, Sand, Blue and Gray from Horne; $756.
Above: Designed by Duluth architect David Salmela, Loll's low Taavi and slightly higher Gladys are inspired by Finnish design: $460 and $680.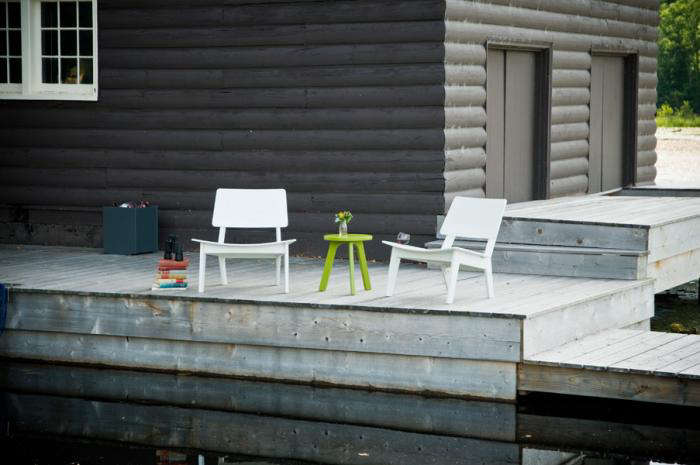 Above: Loll's Lago is inspired by Hans Wegner. It, too, comes in a rainbow of hues; $496.
Above: Loll's Adirondack Collection is the company's most traditional take on the classic chair, with a four-slat back (in curved or straight) as well as myriad matching accessories. In addition, the company has designed a three-slat option for DWR (from $362 to $487), or the two-slat Emmet Lounge Chair, designed for Room and Board; $399.
Above: In a rethinking of his father Ralph Rapson's rocking chair, Toby Rapson teamed up with Loll founder Greg Benson to introduce the Rapson lounge chair and rocker; from $1,099 to $1,299.
N.B. Looking for more ways to lounge around the garden or shore this spring? Browse all our picks for top outdoor seating.
(Visited 13 times, 1 visits today)