At Gardenista, we've always subscribed to a high/low design mix in any room, outdoors included; our never-fail recipe is a canvas of affordable basics peppered with a few outstanding pieces. This way, it's easy to put a room together where the things you love most will always take center stage.
In the outdoor room, where furnishings tend to be fewer in number, one exceptional piece really makes all the difference. But what's the perfect piece?
Here are the five we'd choose right now to take the patio, backyard, or garden to the next level.
Note: Terrain is offering Gardenista readers free shipping on all orders, now through Wednesday, with no minimum purchase. Use code SPRINGFREE at checkout by Wednesday, April 27 at midnight Eastern time.
Above: A new addition to Terrain's classic line of All-Weather Wicker chairs—woven from fully recyclable poly rattan over an aluminum frame—is a Two-Tone version full of retro charm.
Above: The Classic All Weather Wicker Dining Chair, Two-Tone is available in black on white or white on black, and each chair sports a weatherproof denim-like seat cushion; $268.
Above: A fire pit of any kind is a great backyard addition, but a copper one is hard to beat. Terrain's Copper Table Fire Pit comes with a removable steel  grate for grilling and a copper cover to turn the fire pit into a side table.
Above: The Copper Table Fire Pit is handmade in Turkey of solid copper and powder-coated steel; $998.
Above: Ever dreamed of a Mediterranean-style patio—aged white marble overlooking a glassy blue sea? So have we. Try the next best thing in Terrain's handmade Marble Mosaic Patio Table.
Above: The tabletop of the Marble Mosaic Patio Table features hand-laid white marble tiles and sits on a base of weather-resistant powder-coated steel; $898.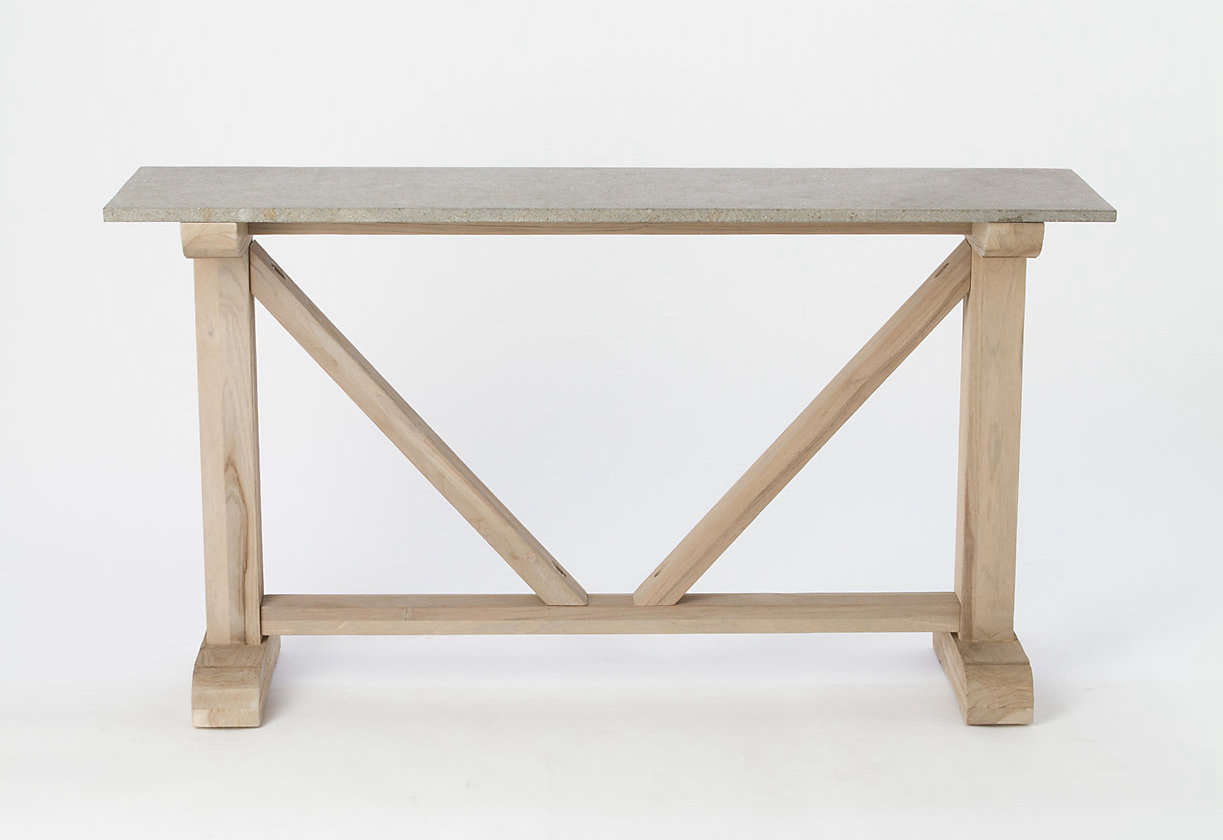 Above: Terrain's Stone & Teak Console is a brilliant buffet table for outdoor entertaining and a stately outdoor plant stand the rest of the time.
Above: The Stone & Teak Console is made of certified sustainably harvested Indonesian teak wood with a weather-resistant grayed finish and bluestone top; $898. 


Above: Terrain has blended the best of both worlds in its "fiber cement" outdoor plant pots: the natural texture of cement and stone with the light weight of fiberglass. We like the Mossy Fiber Globe Planter for its subtly painted, neutral wash.
Above: The planter has a drainage hole for instant planting, and can stay outside all year long, even through frost. It's available in three sizes, ranging in price from $128 to $248.
For more, visit Terrain on Instagram, Facebook, and Pinterest, and don't forget to use code SPRINGFREE for free shipping on all orders placed by Wednesday, April 27 at midnight Eastern.
(Visited 185 times, 1 visits today)