Devise plan for festive holiday lights, check. Unearth box of tangled mass of string lights from closet, check. Test outdoor outlet GFCI to be sure still working. What? I didn't know I had to do that–is there anything else I forgot?
Turns out there probably is. Here is a list of safety essentials for outdoor holiday lighting that should be on every list.
How many strings of holiday lights can you safely connect?
San Francisco's Christmas Light Pros advise a maximum (regardless of the number of strings) of 600 incandescent mini lights plugged into a single outlet.
Standards from the safety experts at Illinois-based Underwriters Laboratories (UL) state that a maximum of 210 watts can be connected when using 22-gauge wire, and a maximum of 420 watts can be connected when using 20-gauge wiring. On average, 100 incandescent bulb string requires 40 watts of power. "So, always check the instructions in case the fuses on your strands are built for more or less," SF Christmas Light Pros say.
What holiday lights are safe to use outdoors?
Any lighting you plan to use outside must safely stand up to the elements. Look for the UL outdoor rating on the package.
Water and electricity do not mix. Limit your holiday lights to those that are UL-rated for the outdoors (they can also be used indoors). Don't make the mistake of thinking that any plastic-coated wire also is outdoor friendly. All the parts of the lights need to be damp- and temperature-proof.
Can all extension cords be used safely outdoors?
No. Only extension cords UL-rated for outdoors should be used as they are made with materials that can withstand exposure to the elements. Indoor cords can short out if they get wet, potentially causing damage to your outlets and lights. Also, extension cords have power limits. Be sure to match your lights' power needs (amperage) with the amperage rating of extension cords.
How do I prevent an outdoor electrical outlet from overheating or shorting out?
Outdoor electrical outlets are required to have GFCIs (ground-fault circuit interrupters) to protect from electrocution. This causes an automatic turnoff if there is any change in the electrical flow. Before starting your holiday lighting installation, be sure to test your GFCIs to be sure they are working. The Electrical Safety Foundation has a simple GFCI Test Tutorial. Also don't overload your outlet (see below).
Avoid electricity altogether by lighting the way for your holiday guests with votive-filled ice lanterns. See step-by-step instructions in DIY: Botanical Ice Lanterns.
How many lights can I plug into an outdoor electrical outlet?
Eager to load up that one outdoor outlet with multiple plug adaptors? Think again. Outlets have their limits in terms of power, and overloading can result in overheating that can cause fire.
Most household outlets, whether indoors or out, are rated for 15 or 20 amps, which supports a maximum of 1800 watts and 2400 watts respectively. Electricians, however, advise never going above 80 percent of capacity, bringing the recommended maximum wattage to 1440 for a 15-amp circuit and 1920 for a 20-amp circuit. And, be warned, some circuits support more than one outlet. How to find out? You can test which outlets are on each circuit by turning off circuit switches, and then turn on each, one at a time. When doing so, check to see which outlets have power running. Each outlet with power is being operated by that same circuit.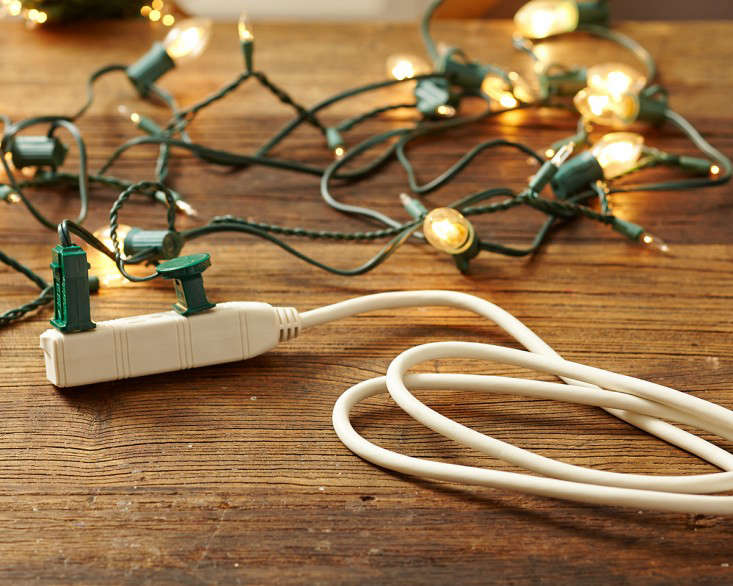 Any other holiday lighting safety tips to keep in mind?
Make sure to replace any broken bulbs before starting.
Keep connections off the ground.
Fasten outdoor lights securely to protect them, and the people around, from wind damage. San Francisco Christmas Light Pros recommend using light duty staples and gutter clips (available in many sizes and configurations).
When fastening light strings, be sure to avoid puncturing the cords, which can damage the insulation and compromise the wet-rated performance.
Feeding power from inside? Make sure that cords are not pinched in doors or windows, which could damage the cord's insulation.
Hanging holiday lights outdoors this week? Here's more help:
(Visited 791 times, 11 visits today)