In the northern Italian city of Mantova, Diego Cisi and Stefano Gorni Silvestri of Archiplan Studio designed a streamlined terrace on the top floor of a family home originally built in the 1600s.
The goal: create a new outdoor space that respects the historical surroundings and honors the Mediterranean architectural tradition.
Archiplan Studio used Ipe wood, raw linen, and neutral colors, a combination that created a warm setting and backdrop for the exuberant wisteria. The Basilica of Sant'Andrea, designed by the Renaissance architect Leon Battista Alberti, is a focal point for the endless city views. 
Photography by Martina Mambrin.
Above: Hello, Basilica of Sant'Andrea.
Above: An idyllic setting for family meals.
Above: The large wooden seat is the main organizational element on the terrace. Raw linen cushions offer extra seating.
Above: Wisteria climbs along the white trellises.
Above: A restrained palette of warm whites, light woods, and botanical greens.
Above: Handmade vessels of glazed earthenware hold simple plantings.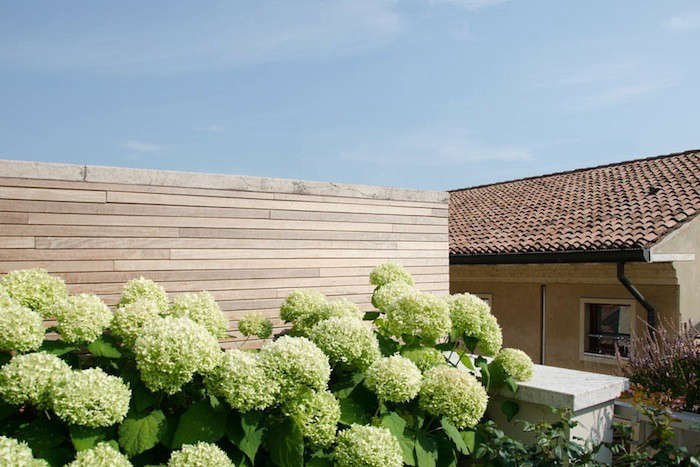 Above: Ipe wood, also known as Brazilian walnut, is lauded for its fire resistance, incredible durability, and density, making it an ideal material for outdoor use. Here it also provides a neutral backdrop for the hydrangeas.
Bit by the wanderlust bug? Explore more of Italy via our Garden Travel Guide to Italy with noteworthy garden shops, restaurants, and design hotels.
N.B.: This post originally published on August 19, 2013. 
(Visited 106 times, 1 visits today)