Friday. Night. Cocktail. Party. No four words sound lovelier together.
This was the argument we made to Brooklyn forager and cookbook author Marie Viljoen of 66 Square Feet when we asked her to create two bespoke cocktails specially for us to kick off our first Remodelista New York Market at Canvas Home last weekend.
Possibly we glossed over a few details—like the fact that Marie would have to mix 500 of them—but as you can see from the photographic evidence, she rose beautifully to the occasion:
Photography by Eric Brown except where noted.
Above: The rims were sugared by wiping lemon around the glass and then dipping in spiced sugar. "A team of three worked like demons," says Marie.
Above:  Our 50 vendors arrived early to display their wares, including hand-printed linens, jewelry, ceramics, one-of-a-kind quilted textiles, cotton ribbon imported from Italy, and woven leather sandals from Mumbai (which proved so irresistible that at least one Brooklyn blogger was overheard asking if she could have a free pair "to review").
Above: Photograph by Marie Viljoen.
Our cocktail table was ready to rumble, loaded with pitchers of Triple Juniper and Sumac Sour cocktails. Miranda Spencer (R) helped sugar the rims of more than 500 glasses.
Above: Spicebush-sugar rims for the Sumac Sour. The spicebush (Lindera benzoin) came from Integration Acres, an Ohio outfit specializing in foraged goodies. Photograph by Marie Viljoen.
Above: A pitcher of Sumac Sour being chilled—each pitcher served 10 cocktails. By night's end there were a lot of pitchers to wash.
Marie's cookbook, 66 Square Feet: A Delicious Life is $20.65 at Amazon.
Above: A coupe of Sumac Sour, a rye-based cocktail made with NY Distilling Co.'s Mister Katz's Rye, Atsby's Amberthorn Vermouth, Sumac-ade (see Triple Juniper recipe for how to make at home), Hollis Hills 2016 Maple Syrup, and Cecil and Merle's Apricot Bitters.
Above: For the wild-inspired cocktail ingredients Marie made 12 liters of sumac-ade, using 2 pounds of New Jersey staghorn sumac (Rhus typhina) foraged in New Jersey by Tama Matsuoka Wong (author of Foraged Flavor). And for 6 liters of juniper syrup Marie collected 3 pounds of fresh eastern red cedar berries (Juniperus virginiana).
If you would like to learn more about the wild flavors that grow under your nose, you can join Marie on one of her wild foods walks in New York City.
Above: Friday night cocktail party + shopping (that's another word we like).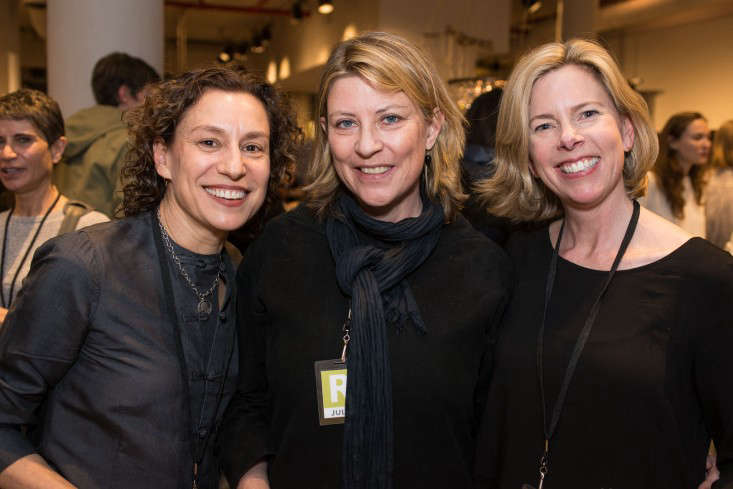 Above: Team Remodelista hard at work. Remodelista founder and editor in chief Julie Carlson (Center) is flanked by managing editor Margot Guralnick (L) and markets editor Justine Hand (R).
Above: Never were we happier to sell out. More copies of Remodelista: A Manual for the Considered Home are available for $25.38 at Amazon.
Above: Flowers by our talented editor Alexa Hotz (we can't wait to show you her DIY chapter in our forthcoming Gardenista book).
(Visited 16 times, 1 visits today)