What to get for the houseplant lover this season? Here's our roundup of glamorous gifts to treat the indoor gardener.
Above: Here's an indoor watering can that doesn't need to be hidden. The beautiful x3 Watering Can has a cleverly designed handle that makes it easy to carry from the top, and it can be gripped at the side for pouring. Made from industrial steel finished in copper (other finishes are available, but we think this is the stunner of the season). It is $49 from Kontextur.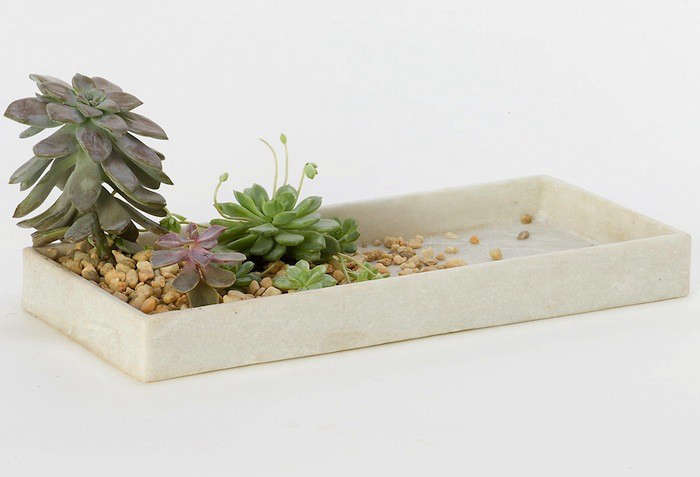 Above: A dressed-up plant tray can hold potted plants or those that require little soil (succulents and air plants). The 8- by 18-inch Polished Marble Tray is $128 at Terrain.
Above: An indoor living sculpture, the Moss Tower is three sets of moss stacked in a beautiful glass container. It's $48 from Lila B.
Above: Made in Portland, Oregon, the 12-sided Deca Planters can be used for potted plants or as floral vases. From $36 depending on size at Sprout Home.
Above: Glass Cloches make gorgeous gifts. Not only can they help cultivate tropical or moisture-loving plants, they are beautiful in their own right. Pair with an orchid for a special gift. Available in several sizes, including a 7-by-13 inch for $52 at Paxton Gate. Photograph by John Merkl.
Above: Offer an olive branch…or two. Easy to grow indoors, the recipe for success is at least six hours a day of direct sun, a deep pot to welcome a root ball, and a position not too close to a window (you don't want the hot sun to burn the olive tree's leaves). For small spaces, consider The Olive Plant Topiary that comes in a 4-inch terra cotta pot and is approximately 12 inches tall; it's $49 at Viva Terra. For a bigger impact, the 2.5-year-old Arbequina Olive Tree In Terra-Cotta Pot is $59.95 from Williams-Sonoma Agrarian.
Above: Here's an idea book full of ways to create drama indoors with natural elements from the garden. Bring the Outdoors In is $18.27 at Amazon.
Finally, get more ideas on how to plant, grow, and care for various houseplants with our Houseplants: A Field Guide.
You need to login or register to view and manage your bookmarks.