Remember your first garden? And how exciting it was to plant your first tulip, prune your first shrub, and water your first tomato plant? Now imagine if you had been able to afford the proper tools–a good folding saw, a pair of pruners, a kink-free hose with a shiny brass nozzle–to tend that garden. This holiday season, you can encourage a young gardener with a dream starter gardener set.
We've partnered with The Home Depot to scour the store's aisles for everything you need. And we've wrapped it all up in a gilded window box:
Photographs by Michelle Slatalla. Photography shot with the Canon EOS 70D digital SLR camera, with Dual Pixel AF technology and built-in Wi-Fi.
Above: We painted a wooden window box (with the aid of Martha Stewart's Vintage Gold Satin Metallic Paint, which is $5.48 for a 10-ounce jar) and stuffed it with gardening essentials: three kinds of jute and twine for different outdoor chores; a trowel; tulip bulbs to force indoors or plant in a garden bed; a hose with a brass nozzle, pruners; a folding hand saw, and a pair of buttery pigskin work gloves.
We also tucked a selection of Assorted Succulents (three for $15.96) into the window box so the beginner gardener on your holiday list can get started with indoor potted plants while waiting for the ground outdoors to thaw.
Above: Our gift comes in a box that is reusable in the nicest possible way: it's a 24-inch-long weather-resistant Pennington Wood Window Box ($16.97), gilded for the holidays.
The window box holds a selection of twines useful for gardening chores: a 200-foot roll (L) of green Jute Natural Twine is ideal for tying plants; and (Center) a 525-foot roll of biodegradable Natural Sisal Bundling Twine can support loads of up to 8 pounds ($4.21), and (R) a 190-foot roll of soft, easy-to-knot Jute Twine is $2.33.
Above: A pair of Firm Grip Grain Pigskin Medium Work Gloves is $8.87.
Above: A foldable Fiskars Pruning Saw with a 10-inch carbon steel blade has a wooden handle; $15.97.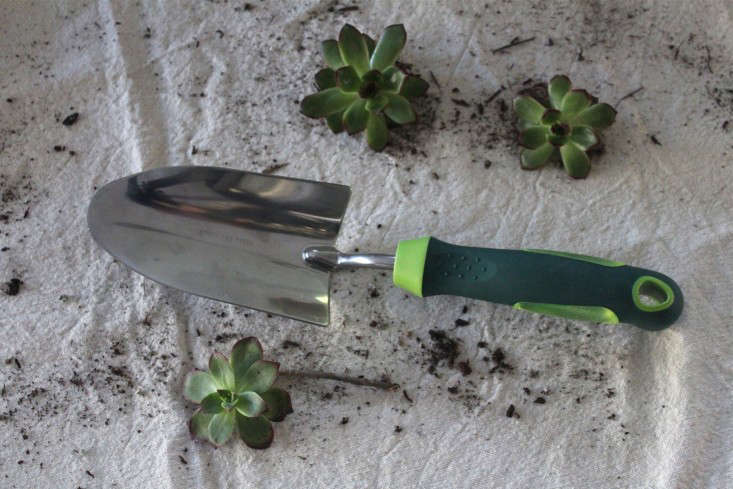 Above: A trowel is an essential hand tool for planting, transplanting, weeding, moving, and smoothing soil. An Ames Ergo Gel-Grip Hand Trowel is $7.97.
Above: A pair of Fiskars Bypass Pruners suitable for both left- and right-handed use is $8.97.
Above: A 10-inch Estwing Sportman's Leather Grip Handle Axe comes with a leather storage case to protect the blade and is $34.97.
Above: A 25-foot-long WaterWorks Kink Free Heavy Duty Hose is $15.47 and an Orbit 5-In Adjustable Brass Nozzle can deliver a jet stream to clean siding–or a fine mist to water potted plants; $7.67.
Above: A bag of 25 Pink Impression Tulip Bulbs is $17.75.
(Visited 12 times, 1 visits today)