New Zealand Flax, Phormium
If I were asked the question: "Kier, how many Phormiums have you planted in your landscaping career?" I'd answer (honestly): hundreds. Why so many? Basically, Phormiums are the ultimate strap-leafed perennial, and I will explain.
Above: Phormium tenax. Photograph by Derek Ramsey via Wikimedia.
Below are the reasons why I plant Phormiums in all kinds of gardens, from sleekly modern landscapes to rambunctious cottage sprawls:
Deer resistant
Dog hardy
Drought tolerant
Seaside tolerant
Evergreen
Variance in size and color makes them versatile
Perfect in pots
Flowers attract pollinators
See what I mean? The possibilities of Phormiums are truly endless.
Above: Phormium 'Yellow Wave' provides a colorful, bright structure to this low maintenance planting bed. I always admire how strappy Phormium leaves play off wispy grasses, as shown here. Photograph by Kier Holmes.
I could go on listing more amazing attributes, but let me tell you about a lesser known quality of Phormiums.
In 1769, a great navigator named Captain James Cook and a great botanist named Joseph Banks arrived in New Zealand and noticed the native Maori people wearing a fine cloth similar to linen made from Phormium. Linen is constructed from flax, so this plant became known as New Zealand flax. Phormium, however, is low yielding plus the fiber is more like jute—weak and coarse.  Attempts at setting up manufacturing shops proved futile though the plant has been called the "Cinderella of Fibers" waiting for Prince Charming to rescue it. But don't hold your breath—Phormium clothing stores will not arrive at the mall any time soon.
Above: Photograph by Lazaregagnidze via Wikimedia.
Cheat Sheet
In a landscape, Phormium is evergreen, deer resistant and won't be bullied by dogs.
Some varieties quickly bolt to 9 feet high while others hover at 1 foot. Some leaf color is solid but most are two- or three-toned.
Phormiu, mixes well with other drought tolerant plants or can stand solo in a planter.
Keep It Alive
Trim fading or tattered leaves down to the base. Also avoid planting Phormiums under trees that deposit a lot of leaf litter, like redwoods, because the tree duff will settle in the crown and make the plant rot-prone and unhappy unless regularly cleaned of excess duff.
Provide well-draining soil.
Planting in sun is preferable but some Phormiums  (like the pleasantly cascading Phormium 'Cream Delight'—one of my favorites) will tolerate partial sun.
Above: A dark-leafed Phormium variety boldly holds it own against the silver tones of Senecio, Aeonium, and Agave attenuata.  Photograph by Kier Holmes.
On a more productive note: a strip of Phormium leaf is an excellent emergency substitute for twine to tie up plants as it won't easily break. You are welcome.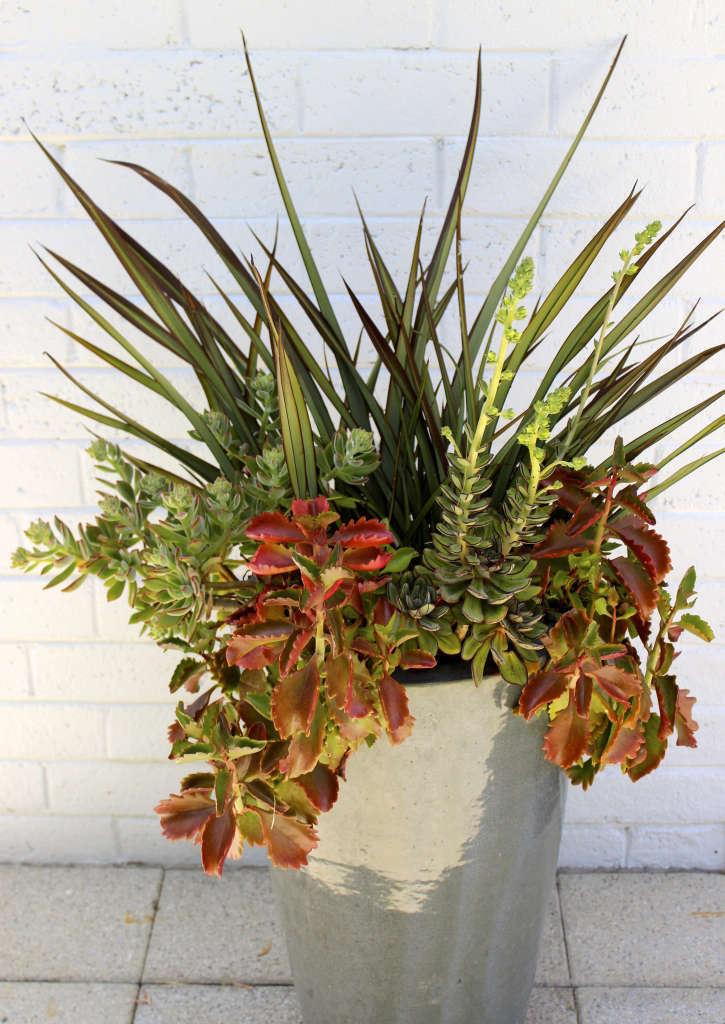 Above: A dwarf Phormium is the upright, bold evergreen anchor in this container planting. Container design and photograph by Kier Holmes.
N.B.: Interested in another drought tolerant grass? Consider:
Finally, get more ideas on how to successfully plant, grow, and care for new zealand flax with our New Zealand Flax: A Field Guide.
Additionally, get more ideas on how to plant, grow and care for various grasses with our Grasses: A Field Guide.
(Visited 539 times, 1 visits today)