Morning Glory, Ipomoea, "Back-to-School Vine"
Morning glory, with its heart-shaped leaves and delicate trumpet-shaped blooms, is such a familiar plant that it is easy to forget how useful and stunning it can be in the garden. Beyond that, it is almost effortless to grow and, except for the possibility of annoying reseeding (more on that later), it is pretty much trouble-free.
Morning glories (Ipomoea) are at their most glorious in September, earning them the nickname back-to-school vines (an added bonus: They don't need an alarm clock to wake early).
Is a morning glory the best flowering vine for your garden? Read on to find out.
I'm considering a morning glory vine for a trouble spot in the back of my narrow little Brooklyn garden where a hulking, plastic, self-watering planter squats in front of a precariously leaning stockade fence. My dream has been to install a vigorous flowering vine in the planter with the hope that the vine would climb up a trellis and make its way onto the fence, thereby transforming this unattractive spot into a bower of loveliness.
But various vines have expired in the planter, which seemed to cast a murderous spell on anything placed inside of it until this year. After adjustments to the soil and tweaking the self-watering apparatus,  I had luck with a the moonflower vine picked up from a neighborhood shop.  Like an answer to a fervent prayer, this lovely climber has sprawled over the fence. Every day when it blooms at dusk, it perfumes the air with its luminous white blooms. But next year the situation could be so much better—if I also add a morning glory vine. I could have nonstop flowers, with the morning glory folding up for the day just as when the moonflower starts blooming.
Some varieties of Ipomoea, a family of 500 or so species that includes the sweet potato, are perennials, but morning glories are most often cultivated as annuals.
The image that often comes to mind at the thought of a morning glory is a bright blue flower. But Ipomoea blooms come in a wide variety of other colors, including lavender, pink, red, and white. Ipomoea tricolor 'Heavenly Blue', thought by many to be the iconic and most popular variety, is a classic heirloom that produces sky blue flowers with white centers.  Ipomoea nil 'Scarlett O'Hara' has distinctive red flowers and is particularly attractive to hummingbirds. I. alba 'Giant White' has fragrant white blooms which are 5 inches across and appear at dusk.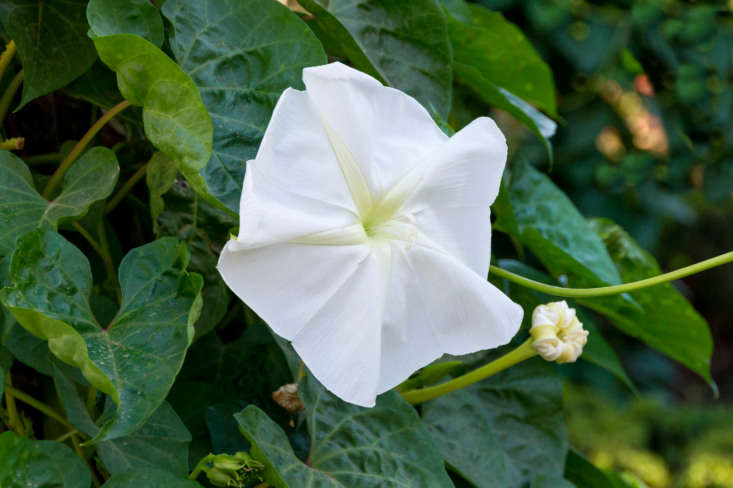 Cheat Sheet
This fast-growing vine (which will grow up to 15 feet in a season) likes a slender support to twine around. It is excellent at concealing ugly fences and other eyesores. It will cover arbors and pergolas and decorate vertical objects such as lampposts and mailbox poles by growing up a cord or chain.  You can even use it as a ground cover.
Ipomoea can be grown as a house plant on a wire or a string lattice in front of a sunny window, where it will flower abundantly all year.
Morning glory attracts hummingbirds and butterflies, but is also unfortunately appealing to deer, rabbits, and ground hogs.
Since it can be slow to flower, start morning glory from seed indoors if you are in an area with a short growing season. Biodegradable pots, which minimize possible damage to roots because they can be placed directly in the ground, are recommended; morning glory does not like to be transplanted.
Morning glory seeds have a hard outer coating and need help to germinate. Chip or rub them with an emery board or sandpaper and then soak in warm water for 12 to 24 hours to soften the seed coat and promote growth.
Another word on morning glory seeds: some varieties of this plant produce seeds that contain a substance known as lysergic acid amide (LSA), which is a hallucinogen similar in its effects to LSD. Morning glory seeds were used in Aztec rituals because of their psychoactive properties.  Experts caution that large amounts of the seeds, which are known to be highly toxic, would have to be ingested in order to produce mind-altering results.
Keep It Alive
Morning glory vines are not fussy about soil but prefer dirt that drains well and is not too acidic.  Keep the soil moist but not soggy.
Avoid rich soil and fertilizers with a lot of nitrogen, or you'll end up with lush foliage and few flowers.
Avoid planting morning glory where strong winds are likely to tangle and damage delicate stems.
Morning glories bloom most abundantly in full sun but appreciate some shade in tropical climates.
Ipomoea likes "cool feet," so add a layer of mulch over the roots.
This plant generally likes hot weather and can withstand drought but won't flourish in extreme heat.
If there is a downside to planting morning glory, it can be its tendency to self seed, often over-zealously. My friend Ellen Reznick, who has a meticulously curated plot in a community garden, is fiercely opposed to this plant. A neighbor in the garden once planted a morning glory vine and, although that was years ago, Ellen claims that every spring she is still plagued by numerous unwanted morning glory "volunteers" trying to invade her space.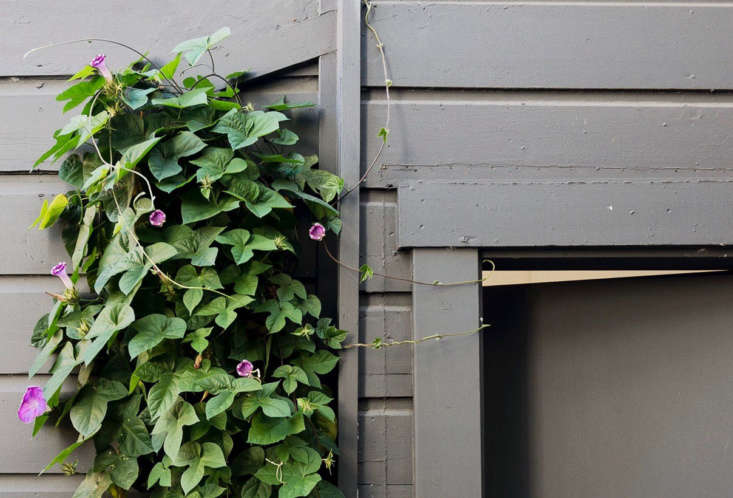 Gardening experts acknowledge that re-seeding can be a problem. In fact, purple morning glory (Ipomoea purpurea), has escaped from gardens and naturalized abundantly all across the U.S.; other species are also considered invasive in some areas.  To avoid turning your plant into a pest, deadhead spent flowers after they bloom to prevent the formation of seed pods.  Clearing away the entire plant after it has been killed by frost is also recommended.  Treat it like you would a noxious weed.  Don't put it in the compost. Bag it up and remove it from the garden.
See more growing tips in Morning Glory: A Field Guide to Planting, Care & Design in our curated Garden Design 101 guides to Vines & Climbers. See more of our favorite climbers:
(Visited 1,091 times, 1 visits today)