Geum (aka Avens), Geum spp.
Once gardeners get to know geums (also known as avens), a relatively uncommon perennial, they often seek out others. Kirsty Wilson, the author of Planting With Nature and the herbaceous supervisor at The Royal Botanic Garden Edinburgh, first planted Geum 'Totally Tangerine' in her award-winning show garden, The Coffee Garden back in 2019. The garden's palette of lime, orange (including 'Totally Tangerine'), and brown was inspired by the colors of coffee bean fruits. Today, Wilson has a list of geums she likes to use in her designs.
It's not just professional plantswomen like Wilson who have discovered the joys of geums. Ohio gardener Brad Johnson, the content creator behind @garden.evolution, says he fell in love with geums accidentally. "I stumbled across the cultivar 'Mai Tai' at a local garden center and gathered a couple up just to try them out," he says. Johnson quickly found himself seeking out more—and with good reason: Geums are easy to grow, loved by pollinators, and long blooming; they even have lovely foliage.
Here's everything you need to know about growing geums.
Members of the rose family, the rhizomatous perennials' blooms resemble tiny roses, which look great in the garden and in cut bouquets. "I love the repeat flowering, and the flowers last a long time—geums really do perform," says Wilson. Kate Gould, a garden designer and founder of Kate Gould Gardens in London, likes geums because she says, "they add punch, depth and impact." More widespread in the United Kingdom than the U.S., geums are well worth seeking out.
Suitable for zones 3-9, geums are relatively tough plants, according to the experts we spoke with. Gould says, "Give them some sun or light shade and a soil that is well worked, and they will easily reward you." Johnson finds the flowers last longer with some afternoon shade but they can handle full sun with extra moisture (though they may not be so happy in full sun if you live further south). Johnson also notes that clay soil doesn't seem to bother them.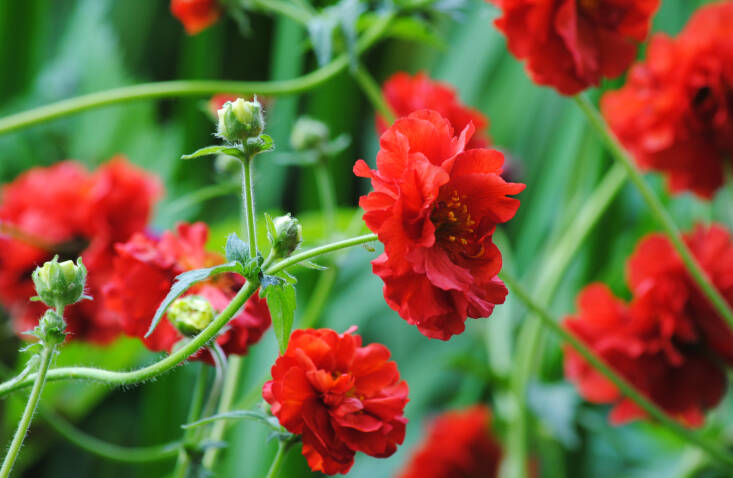 With their long, wiry stems, geums make good cut flowers, but not necessarily in their first few years. "It will take a few years to establish and give you nice long stems for cuttings," says Wilson, who advises picking geums when the blooms are half open for the longest lasting cut flowers. Some varieties like 'Totally Tangerine,' naturally have longer stems than more compact varieties.
Once they get going, division is encouraged to keep your geums vigorously flowering. Gould recommends dividing the clumps every three to five years. Johnson adds that he's been dividing his every couple years because they are considered a short-lived perennial. "Dividing reinvigorates them and keeps them going longer. I've had some for as long as five years now," he adds. (However, note that when the Chicago Botanic Garden trialed geums, they found that many grew vigorously without the chore of division.)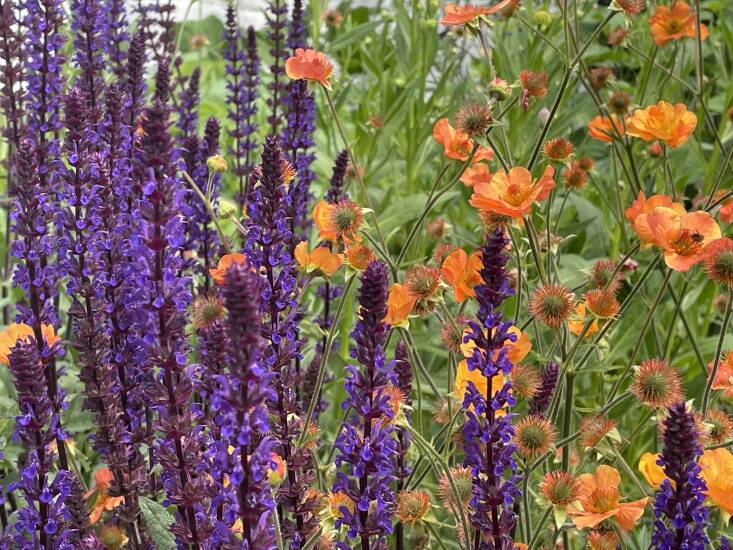 Geums will generally flower from May through July, filling a period in the garden that can often be light of blossoms. If you cut or deadhead, Wilson says "they will reward you with a second flush of blooms in early autumn." In Zone 6, Johnson says his are usually up by late spring, but one bloomed in March in 2023's mild weather.
Cheat Sheet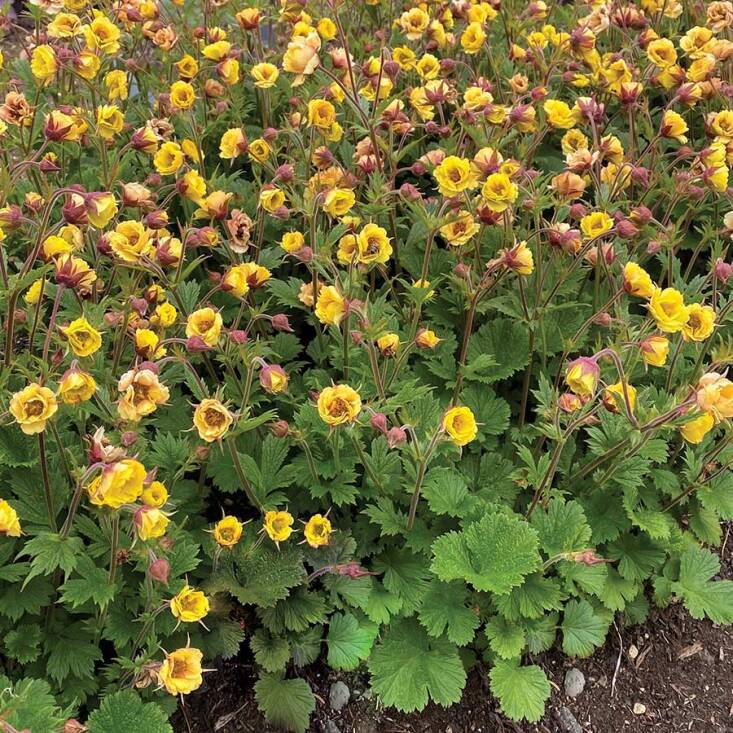 Geums are members of the rose family.
Native to Asia, Africa, Europe, and North and South America, they can be found nearly everywhere.
There are about 50 species of plants in the Geum genus.
They are considered short-lived perennials.
Blooms are long-lasting and begin in late spring and may last until late summer.
Geums grow in a mounding habit, with blooms on wiry stems.
Keep It Alive
Hardy in USDA Zones 3-9.
Plant in well-draining, moist, fertile soil. Most geums are not particularly drought- or heat-tolerant.
Geums do well in full sun to part shade. In hot regions, they like shade in the afternoon.
Deadhead to encourage repeat blooms.
Requires division every few years.
See also:
(Visited 4,795 times, 16 visits today)
Frequently asked questions
What are geums?
Geums (also known as avens) are perennial flowering plants that belong to the Rosaceae family. They are known for their vibrant and colorful flowers.
How do I plant geums?
Geums prefer well-drained soil and full sun to partial shade. Dig a hole slightly larger than the root ball of the plant and place it in the hole. Backfill with soil, firming it gently around the plant. Water thoroughly after planting.
When should I plant geums?
Geums are best planted in spring or fall when the soil is still warm. This will give them enough time to establish their roots before the extreme temperatures of summer or winter.
How often should I water geums?
Geums require regular watering, especially during dry spells. Water deeply once or twice a week to ensure that the soil is moist but not waterlogged. Allow the top inch of soil to dry out before watering again.
Do geums need to be fertilized?
Geums are not heavy feeders but can benefit from a light application of balanced fertilizer in early spring. Use a slow-release fertilizer or organic compost to amend the soil.
How do I care for geums in winter?
Geums are generally hardy plants, but it is advisable to provide a layer of mulch around the base of the plant to protect the roots from freezing temperatures. Cut back the foliage in late fall or early spring to allow new growth to emerge.
Can geums be grown in containers?
Yes, geums can be grown in containers. Choose a container with good drainage and fill it with a well-draining potting mix. Place the geum plant in the container, ensuring that the soil level matches the top of the root ball. Water thoroughly and place the container in a location with adequate sunlight.
Do geums attract pollinators?
Yes, geums are known to attract pollinators such as bees and butterflies with their bright and showy flowers. They can be a great addition to a pollinator-friendly garden.
Are geums deer resistant?
Geums have a reputation for being deer resistant. However, it's important to note that the deer tolerance of plants can vary depending on the region and specific circumstances.
Can geums be divided?
Yes, geums can be divided to propagate new plants. This is best done in spring or fall. Carefully dig up the plant and use a sharp knife to divide the crown into sections, ensuring that each division has several healthy roots. Replant the divisions, water thoroughly, and provide appropriate care.