Paperbush, Edgeworthia chrysantha: "Love at First Sight"
When plant loving people encounter the distinctive, uncommon shrub Edgeworthia for the first time, not only do they remember their initial reaction in great detail, they invariably describe it as love at first sight.
This happened to me a few years ago when I spotted paperbush growing in a perennial border near the lily pool at the Brooklyn Botanic Garden. The time of year was late January and the plant, like its nearby companions, was leaf-less, the better to display its handsome dome shape and rust colored stems. But what was striking were the otherworldly, small pearly spheres dangling from the stems.  They resembled the puffy purses or reticules of tiny antebellum ladies—and stopped me in my tracks.
Above: Photograph by Tanaka via Flickr.
The spheres were the flower buds which had formed the previous summer and were now preparing to burst into bloom in the very early spring before the leaves appeared.  What I didn't know that day as I stood marveling was that when the buds opened not only would there be a heart-stopping display of egg yolk yellow flower heads but those flowers would be accompanied by a heady and delicious fragrance.
Above: Photograph by Marie Viljoen.
There are other shrubs that bloom in winter on bare wood, some witch hazels, viburnums and daphnes (relatives of Edgeworthia) to name a few.  But the paperbush is the only one that precedes its bloom with such a distinctive display of buds.  After flowering, when covered with bluish-green leaves which are clustered at the ends of its branches, this plant has a lush, almost tropical appearance.  It is truly one of those rare plants that provides interest throughout the year.  More good news is that it is very easy to grow.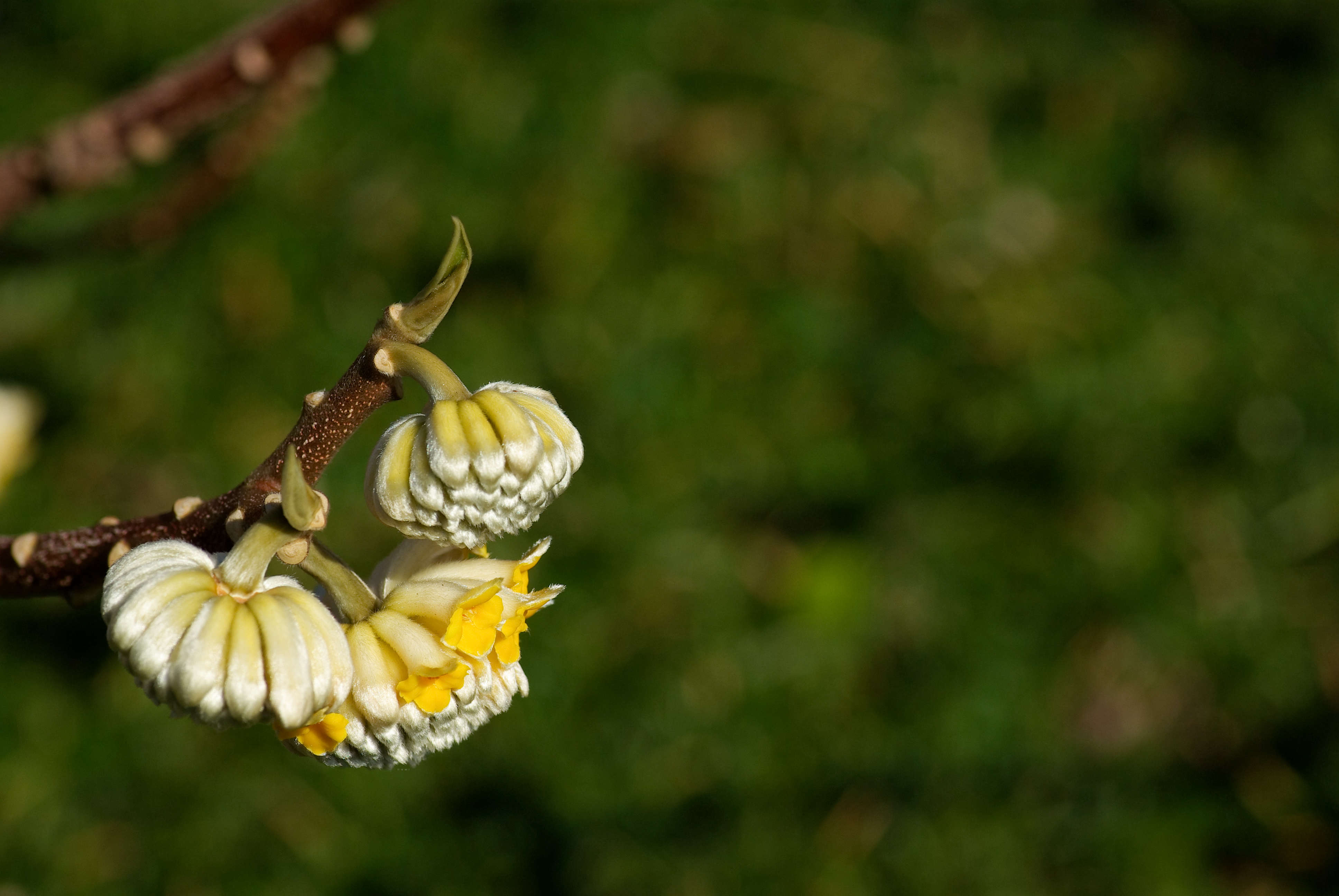 Above: Photograph by Titanium22 via Flickr.
Cheat Sheet
Its year-round beauty makes Edgeworthia the perfect specimen plant to place in a prominent location near a walkway or patio so garden visitors can easily see it and enjoy its early spring perfume.
A background of dark evergreen shrubs could make a nice foil for paperbush when it puts on its winter bud and flower show as would an underplanting of evergreen ground cover such as vinca minor, thyme, or sedum.
Edgeworthia is hardy in USDA zones 7 to 10 so if your area is on the colder side of that range, place your paperbush in a sheltered spot to prevent the vulnerable buds from getting frost bitten.
Keep It Alive
Paperbush will grow in full sun to partial shade but in sunny locations will need protection from harsh afternoon light.
Moist humus-rich, loamy soil is best as long as there is also good drainage.
Soaker hoses will provide the slow, deep watering necessary for healthy root development in young plants. More established Edgeworthias require less irrigation but should be watered during periods of drought.
Above: Photograph by Leonora Enking via Flickr.
The plant's unusual name comes from the 19th century Irish plant hunter Michael Pakenham Edgeworth who discovered it in the Himalayas and introduced it to England around 1850.  Edgeworthia is actually a native of China but has been grown in Korea and Japan since the late 16th century.
Its common name, paperbush, comes from its use in Japan, where it is known as mitsumata. The unusually pliable bark has been used by the Japanese for centuries to make high-quality, hand-made paper, the kind used for decorative wallpaper and calligraphy. For many years Japanese paper money was made from mitsumata and celebrated for being the finest quality bank notes in the world and the most difficult to counterfeit.
For more spring bloomers, see 8 Cold-Climate Flowering Shrubs and Small Trees for Early Spring.
N.B.: And if you're looking for the right shrub to plant, see our Garden Design 101 guides on Mahonia 101, Lilac 101, and Sumac 101.