Boston Ivy, Parthenocissus tricuspidata: "Gentle Tendrils"
The first thing to know about Boston ivy is that it is not Virginia creeper. Don't confuse its lobed, glossy leaves which end in three points with Viriginia creeper's five-fingered leaflets (the hint is in the name: P. tricuspidata versus P. quinquefolia).
Boston ivy vines systematically spread over verticals and horizontals, while its cousin the creeper waves about in the breeze. If you like the look but are worried by ivy, this is the plant to choose: Boston ivy is not an ivy at all, being a member of the colorful and deciduous Vitaceae family. Not only does it offer season-enhancing color but after its leaves have dropped, buildings are able to take in warmth from winter sun.
Photography by Britt Willoughby Dyer, for Gardenista.
Boston ivy saves more energy than evergreen ivy in winter, and is equally efficient in summer, cooling down west- and south-facing walls. Additionally, its method of adhesion is less damaging. While ivy supports itself with aerial roots that exploit weakness in masonry, the tendrils of Boston ivy stick with adhesive pads that don't infiltrate the fabric of a structure.
Traditionally found adorning august buildings such as those at Harvard University, Boston ivy was largely culled in the 1980s along with ivy (there is some debate over whether the Ivy League was named after Boston ivy or real ivy, Hedera helix, which has been allowed to remain at Princeton). In the UK, the All England Lawn Tennis Club where Wimbledon takes place is famously clothed in Boston ivy, still a glossy dark green in July when the tournament takes place.
Boston ivy is native to Japan, not New England. Coincidentally, one of its more sought-after cultivars was first discovered growing near the home of the Boston Red Sox; P. tricuspidata 'Fenway Park' is distinguished by lime green leaves in summer that turn yellow, orange, and red in fall. P. tricuspidata 'Veitchii' carries an Royal Horticultural Society award of garden merit.
Boston ivy celebrates the season in a similar way to other members of the grape vine family; with great flamboyance. Shadows of just-departed leaves create an effect of molten embers, the longer exposed areas being a deeper red. However, when the leaves go, their pale stalks remain, in a horrible anticlimax. A fine black tracery decorates the host building or structure over winter.
Cheat Sheet
• Boston ivy is a sensible alternative to classic ivy, although it is even more vigorous, growing to more than 30 feet, reaching maturity in from five to 10 years.
• Because Boston ivy is not evergreen, it is less heavy than ivy in winter; its adhesive disks, resembling tiny lizard's toes, stick on top of mortar instead of digging into cracks.
• Like ivy, Parthenocissus tricuspidata provides a good insulation for buildings and a safe haven for wildlife.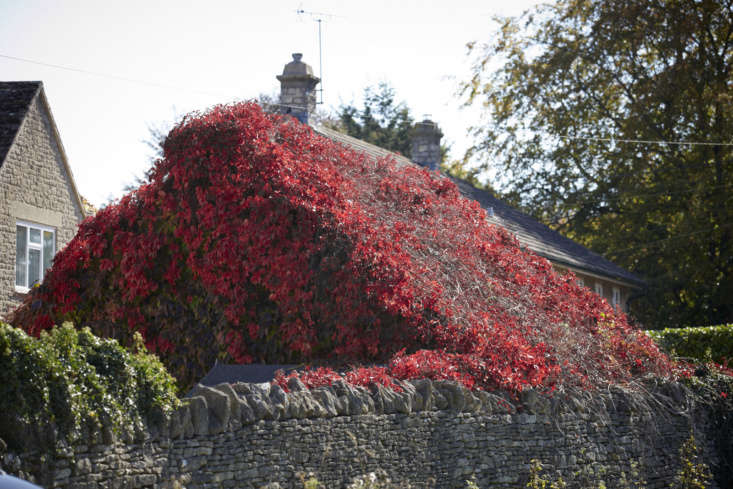 Keep It Alive
• Boston ivy is very hardy, thriving in a wide range of situations (including USDA growing zones 4 to 8) and in any aspect, whether sheltered or exposed. Soil type is not a problem, whether acid or alkaline, chalk or clay, although like so many plants it prefers moist and well-drained.
• Autumn color is guaranteed whether planted in sun, partial, or full shade.
• Boston ivy benefits from being tied at first but ultimately it is self-clinging.
As with all vines and climbers, growth should be kept away from gutters and roofs; Parthenocissus tricuspidata is not for the laissez-faire gardener. If you find that you need to remove it from a particular elevation, cut the stems at the base first, only unclothing the wall when the plant has weakened. Since vines are chosen by birds for nesting, wait until winter to do this.
Read more growing tips in Boston Ivy: A Field Guide to Planting, Care & Design in our curated guides to Vines & Climbers 101. For more ways to add curb appeal to Exteriors & Facades, see:
(Visited 844 times, 5 visits today)