In Denmark a greenhouse is the summer equivalent of the screened-in porch. During the short summers weather is variable, yet days are long. People are able to spend more time outdoors when they're under cover, preferably surrounded by plants. This explains the lack of debris and disorder in Danish photographer and gardener Mette Krulle's greenhouse on the island of Funen, birthplace of Hans Christian Andersen.
After our recent profile of her joyous container pots (which have achieved celebrity status on Instagram @krullskrukker), we couldn't resist coming back for another visit:
Photography by Mette Krull.
Above: Glinting in the afternoon sun, this greenhouse is integrated into the garden, instead of being tucked away by the compost pile.


Above: A pair of "school cucumber" plants (skole agurker in Danish, indicating that they remain small) form an orderly line along one side of Mette's greenhouse. Another side is devoted to cacti, another to citrus trees of lime as well as tomatoes and herbs. "In Denmark many people have seating arrangements in their greenhouses," says Mette. "This way, they are able to sit 'outside' in the transitional seasons."
Above: Modular metal containers hold grow bags of high-nutrient compost, with plastic wrapping that is nicely subdued in color.
Above: Mette takes pictures of plants for a living and keeps her hugely popular Instagram account updated with the latest from her garden.
Above: White and mauve Clematis 'Florida Sieboldii' grows up a rusted metal obelisk, softening the cactus collection, while adding height.
Above: Plants are lifted off the ground on tables and shelves, or deep planters. Lower shelves provide extra growing and storage space.
Above: Bins and bikes are hidden behind a semi-transparent partition, while the greenhouse takes pride of place in the heart of the garden.
Above: In Mette Krull's garden there is a number of outbuildings, frequently used. Besides a small black shed for tools, Mette's husband has just finished a larger black shed, or "second garden house."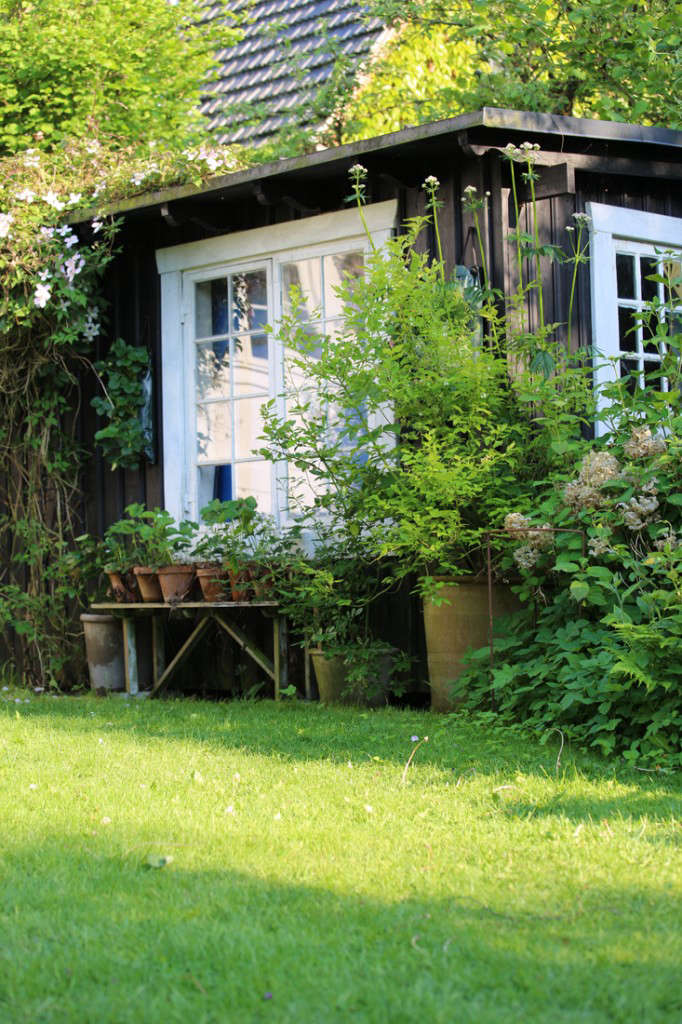 Above: "The little shed" in the garden, with flower heads of valerian reaching for the roof.
N.B.: See more of Mette's garden in Garden Outpost: An Instagram Star on an Island in Denmark.
(Visited 902 times, 3 visits today)