Low maintenance was at the top of the list when homeowner Phil Hutton asked Brooklyn-based New Eco Landscapes to redo the front and back yards of his Bed-Stuy brownstone. Hutton moved to New York City six years ago from Adelaide, Australia, to work for Google as an engineer. (Do we even need to say that he doesn't have a lot of spare time on his hands?)
His other requests: High Line style (that is, he wanted the sort of colorful, low-water perennials that thrive in Manhattan's High Line Park), and lots of open space. 
A huge dead tree stood out back, and much of the yard was covered in concrete slab (which in turn was covered in shredded artificial turf) when Sean Lewis and Jesse Terzi, partners in New Eco Landscapes, started work last summer. Breaking up and hauling away concrete was the biggest chore, but Lewis and Terzi finished the job within a month.
Photography by Douglas Lyle Thompson for Gardenista.
Above: The backyard, now clean and simple, was laid with local bluestone pavers that require nothing more than an occasional sweep with a broom. Besides the shrubs, the beds are planted with drought-tolerant blue carpet juniper and Hollywood juniper; ground cover of ajuga and pine-bark mulch keeps the weeds down. The long cedar bench on the right has a row of spring-loaded lids that allow easy access to store cushions and other gear.
"I really love the garden," says Hutton. "I started spending time in it this year as soon as the snow thawed (ignoring the low temperatures), and I'm out there just about every day. People say it's best room in the house, and I reckon they're probably right."
Above: In the lounge area, a teak couch and coffee table are joined by Ikea chairs in easy-care synthetic rattan. (Pillow and tabletop items provided by ABC Carpet & Home.)
 Above: Hutton asked for a wood fence with horizontal slats; small gaps provide ventilation. Over time the unsealed cedar will weather to a silvery gray. The brick wall was also left untouched (it's the back of a small variety store on Fulton Street).  
Above: The pared-down teak dining table was left out all winter (Hutton did say "low maintenance") and seems none the worse for wear. Two molded-plastic Eames chairs by Herman Miller make for comfortable seating. 
Above: A custom-made barnlight pendant provides light for evening dining and defines the space. For wall-mounted versions, see 10 Easy Pieces: Barnhouse-Style Outdoor Lights.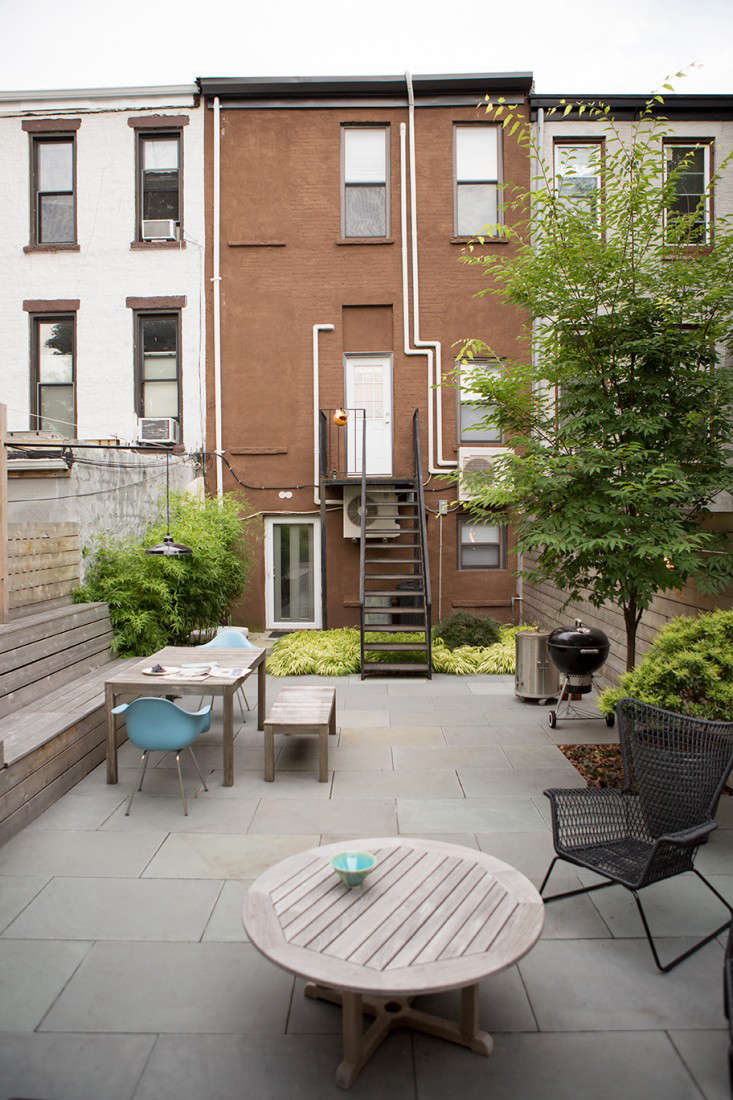 Above: The view from the rear. The New Eco guys planted hardy hakonechloa grass next to the back wall of the three-story house; it has grown in fully after only a year. They also put in a small Japanese cutleaf shrub, which promises to stay small, and on the left, bamboo–which makes no such promises.
Above: One of several bulkhead sconces mounted on the fence, lending a nautical air. Hutton can control all the lighting via his smartphone.
Above: In the back of the garden, which gets full sun, is a smoketree shrub. Hutton has a market umbrella to provide shade when he's sitting out during the day.
Above: A Japanese zelkova on the left, often described as "vase-shaped," is such a good shade tree it's found in sidewalk wells all over New York City. The large planter holds a pieris.
Above: View from the roof. At lower left are a Weber grill and a coal-burning tandoor. Hutton found the tandoor in New Jersey at Gulati International. "I have friends over for various combinations of drinks, tandoori grilling, and Weber grilling," he says. His specialty in the tandoor: masala lamb chops. He also uses it to make naan bread, moving the dough around the oven's clay sides with skewers as it bakes.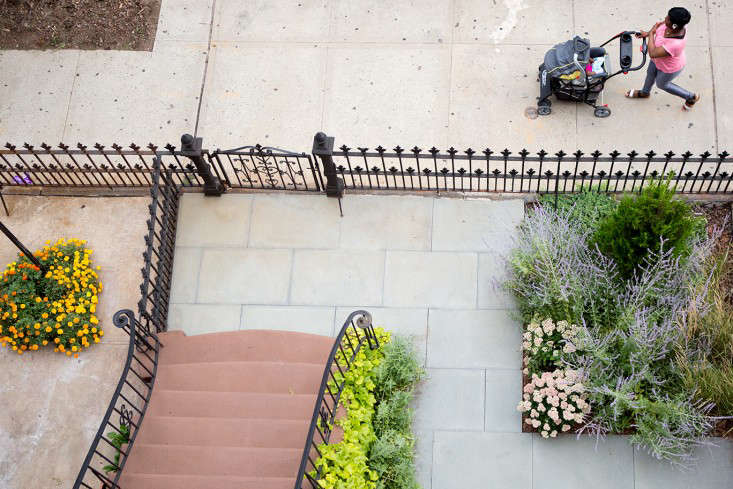 Above: In front of the house is a planting bed (more perennials) and more bluestone pavers.
Above: The large front yard bed overflows with autumn sedum, fragrant Russian sage, and blue carpet juniper. Lavender was planted by the trash cans, to help mask the smell.
Above: Boston ivy cloaks the side of the stoop. Like the rest of this garden, it doesn't ask for much. But even if Hutton isn't out there watering and weeding, he says he fully appreciates his stylishly renovated space–and makes the most of it when he can.
For another space designed by New Eco Landscapes, see Landscape Designer Visit: A "Showstopper" Backyard in Brooklyn. And we source the look of a different style of Brooklyn backyard in Steal This Look: Midcentury Mod Townhouse Garden in Brooklyn. 
(Visited 649 times, 1 visits today)