When it comes to planning meals, I'm a fairly firm believer that the emphasis should be on the food. Everything else feels like distraction. But when holidays and guests and springtime are involved, I can't help but put just a little energy into tabletop decorations. At Easter, one of my favorite ways to brighten a table quickly is with fresh forsythia branches.
Neon yellow and as well-suited to carefully manicured lawns as they are to the sides of highways, forsythia can be found just about anywhere. This time of year, florists and grocery stores have forsythia by the bucketful. Here, a simple idea for dressing up your Easter table.
Photography by Erin Boyle.
Above: The supplies for this last-minute Easter table setting are simple and easily exchangeable for what you have on hand. I used simple linen napkins, forsythia branches, twine and an upholstery needle, and hollow quail eggs.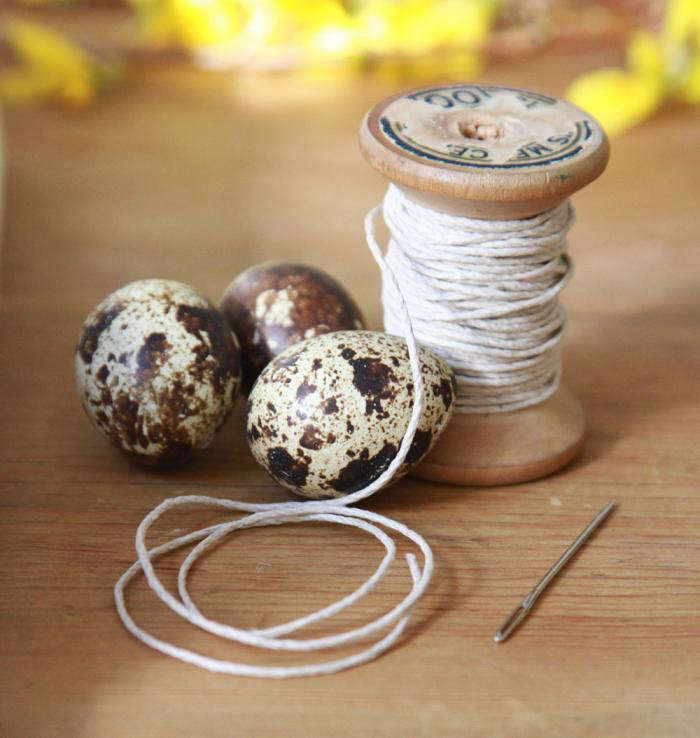 Above: I purchased a set of 12 hollow quail eggs from a local florist but you can often find them in craft stores.
If you can't find hollow shells on short notice, quail eggs are commonly sold in Asian markets and specialty food stores. You can use a needle to poke two holes in the shell and blow out the yolks yourself. Just give them a good wash first.
Above: I used an upholstery needle to thread thin twine through the two holes in the hollow eggs. The eggs are fairly fragile, so it's worth it to do this part slowly. Make sure the eye of the needle is small enough to pass through both holes easily.
Above: I'm a fan of keeping table linens simple so they can be dressed up with something from the garden. I love using these soft white Khadi Vintage Linen Napkins from Caravan as a simple starting point; four for $90.

Above: I tied the twine twice around a rolled up napkin and finished it with a simple knot. If your egg doesn't end up exactly in the center, you can carefully slide it along the piece of twine. If you'd like to prepare the napkins ahead of time, tie them loosely, without the forsythia, and then slide a small length of branch under the twine alongside (or directly underneath) your egg.
Above: I prefer fresh flowers, but if you don't have access to fresh forsythia branches, you can find pretty good silk replicas online and in craft stores. Fresh branches should be kept in water, but the flowers are hardy enough that they can last several hours without water and still look perky.
I like putting clipped branches directly on the table instead of in vases, so they won't get in the way of conversations across the table. If you don't think you'll have time to clip branches proximate to dinner time, you might consider cutting short branches ahead of time and displaying them in small juice glasses instead.
Above: Finally, if you have a hunch that your guests will think the tiny quail egg looks good enough to eat, you might consider having a bowl of chocolate quail eggs on hand. Just in case.
Finally, get more ideas on how to successfully plant, grow, and care for forsythia with our Forsythia: A Field Guide.
Finally, get more ideas on how to plant, grow, and care for various shrubs and hedges with our Shrubs: A Field Guide.
(Visited 56 times, 1 visits today)