Gardeners and hyacinths have what their therapists might describe as a classic co-dependent relationship.
Let's stop calling bulbs "forced," when "gently persuaded" is a more accurate description of the process that results in wanton, out-of-season blooming. True, a gardener puts bulbs in a cool, dark place for a few weeks to artificially simulate winter. But as soon as the hyacinths emerge into the light and warmth, the bulbs pretend they think it's time to burst into bloom and fill the air with a luxurious perfume. People coo. Hyacinths preen. Everybody wins.
Above: To force—or gently persuade—hyacinths to bloom in water, you can "plant" them in a clear glass set of Three Hyacinth Bulb Vases (£18.50 at Cox & Cox). Keep them in a cold, dark place (where the temperature is below 50 degrees) for up to eight weeks to allow their root systems to develop. Then transfer to a sunny, warm spot.
Above: Hyacinthus orientalis bulbs are shipped seasonally, typically in the fall, from growers such as Brent and Becky's Bulbs and Holland Bulb Farms. Although they're known as Dutch hyacinths, these Asian natives didn't reach Europe until 1560, when a shipment of bulbs from Persia arrived—in England. Image by Henry Zbyszynski via Flickr.
Above: Photograph via Terrain.
After blooming, most indoor bulbs will be spent and won't flower again. But if you want to reward their service instead of heartlessly tossing them onto the compost pile: Wait for the leaves to die back naturally. Then plant in the garden and feed them an organic fertilizer. (Narcissus and daffodil bulbs are more likely to respond, and bloom again in the garden, than hyacinths.)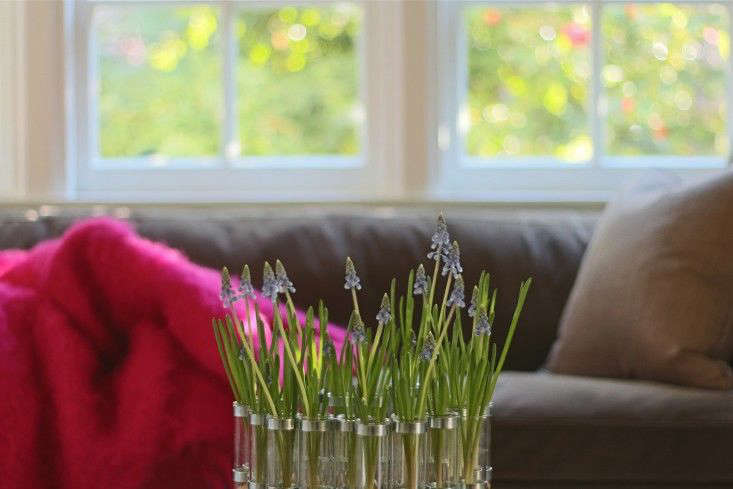 Above: Muscari, or grape hyacinths, can be forced in bulb vases, as well. Photograph by Michelle Slatalla.
(Visited 64 times, 1 visits today)