Children who grow up in New York City are often deprived of time in the natural world. But just off the traffic-jammed hubbub of Flatbush Avenue, hidden inside the Brooklyn Botanic Garden is a one-acre miniature farm where for nearly a hundred years kids have hunkered down in the dirt to get to know insects and worms at close range.
Photographs by Jeanne Rostaing.
Above: The Children's Garden was the brainstorm of a young teacher named Ellen Eddy Shaw, who was distressed by the plight of poor children living in crowded tenements. She decided to create a place in the fresh air where they could learn gardening skills.
Above: Miss Shaw's Children's Garden was the first to be established in a botanic garden–and it is the oldest continuously operating children's garden in the world.
Above: Countless youngsters over the years have planted seeds, nurtured plants, and felt the giddy pride of biting into a pepper or tomato they themselves grew.
Above: Children are organized into groups of 10 to 12 based on age and grade. Each group is then assigned a specific area or plot to care for. Officials at the Botanic Garden estimate more than 1,000 children, ages 2 to 13, participate each year. Older students, enrolled in the Garden Apprentice Program, provide guidance and instructions.
Above: Adults are only permitted in the garden as caregivers limited to the tiniest participants… toddlers 2 and 3 years old. Otherwise grownups are admonished to stay out of the way and watch the children at work.
Above: Crops in the Children's Garden are started from seed in spring. The young gardeners grow a lot of familiar produce, including tomatoes, squash, pumpkins, corn, and eggplants.
Above: But many plots reflect the ethnic diversity of the city's youngest gardeners. Tomatillos, edamame, and super hot peppers are also thriving.
Above: Vegetables are fine, of course, but even in Miss Eddy's day, the Children's Garden has always had room for the beauty of flowers.
Above: Today brilliantly colored zinnias, nasturtiums, and marigolds grow among the crops.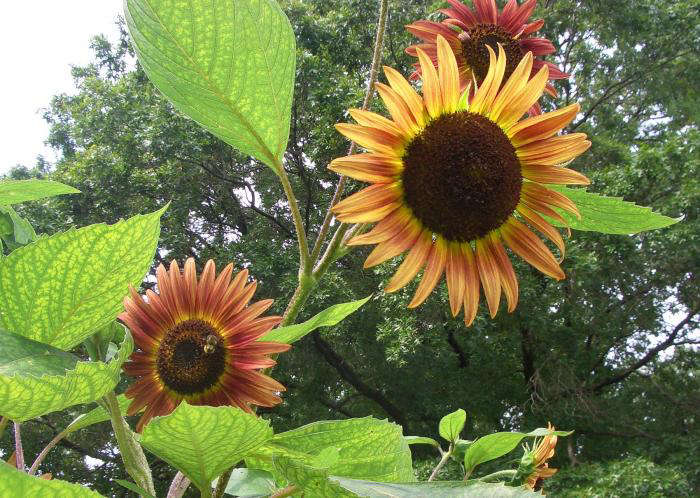 Above: On Mondays, when the garden is closed, the children's army of statuesque yellow and red sunflowers stands watch. Some of their heads, heavy with seeds, are bowed. It almost seems as though they are mourning the absence of their exuberant young caretakers.
For more of our favorite New York City Gardens, see 25 images in our Gallery of rooms and spaces.
N.B.: This is an update of a post published August 23, 2012.
(Visited 2 times, 1 visits today)