You have pulled off the plastic covers and dragged the old patio furniture out to the patio. You have eyed it dubiously. You have tried the hose. As Memorial Day approaches, more drastic measures are called for. We've partnered with sponsor Home Depot to show you how to turn this situation into a fairyland of flowers in one afternoon.
The challenge: you've had the patio furniture–and the patio–for a few years now. So how are you going to make it summer-fresh and pretty, fast?
We drove to Home Depot and loaded up the car–it's a Mini, by the way, so we're not talking about an overwhelming expense, just a few planters and soil and mulch and six-packs of plants, plus a couple of tall flowering bougainvilleas that we jammed into the hatchback by lying them on their sides–and then we set to work.
Photograph by John Merkl.
Above: The blank canvas; here's what we had to work with. Teak furniture–you probably have some–is good to set the stage because it's sturdy and has strong, simple lines to act as a backdrop to all the bright blooming stuff we planned to add. We also had a metal chair and table; as you can see, it's easy to mix and match outdoor piece.
Follow our DIY plan and you can transform any grouping of furniture into an outdoor room so irresistible that you will find yourself napping away July on the patio.
Our materials included white landscape roses, bougainvillea, succulents, and planters in a variety of colors and shapes (but all in the same color tone, to create a unified appearance).
Photograph by John Merkl.
Above: Our local Home Depot in Marin County, California, carries a big selection of succulents, those low-maintenance plants that you can pretty much ignore all summer long without paying a penalty. They don't want to be bothered by you; they just want a sunny dry spot.
Above: Each Home Depot nursery department has its own local selection of plants. This weekend, a Super-Six Pack of Annuals suitable for containers (such as Marigolds, Zinnias, Impatiens, and Begonias) is on sale for $5.88.
We stuck to succulents because impatiens (as seen above) is suffering from a mysterious outbreak of downy mildew that is killing the plants up and down the East Coast.
We planted succulents together to create a tabletop container garden, as well as a large planter to anchor one corner of the patio (see below, but only if you want to spoil the surprise).
Photograph by John Merkl.
Above: To create a couple of planters of mixed succulents, the first step was to remove the plants from the plastic nursery pots and gently loosen their roots. For each planter, we mixed succulents of different complementary colors, with leaf shapes and textures that would play off each other.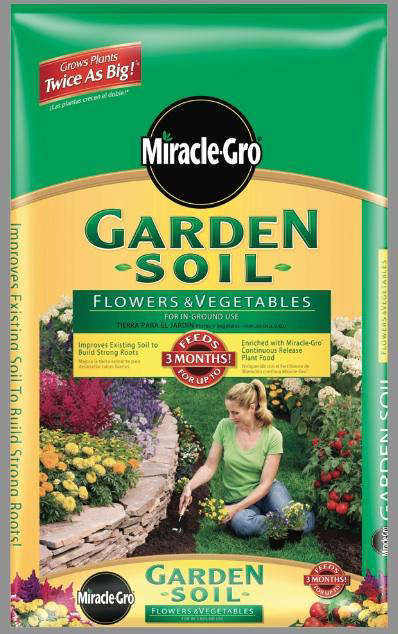 Above: In each container, we planted the succulents in an organic potting soil mix; you also can use Miracle-Gro Garden Soil and, if you'd like, put a layer of Earthgro Mulch (on sale at Home Depot for $10 for three bags) on the surface of the potted plants.
Photograph by John Merkl.
Photograph by John Merkl.
Above: The finished look. To establish a visual perimeter around the patio area, we grouped 4-foot-tall bougainvilleas from Home Depot in pots. For symmetry, we set matching pots of exuberant white landscape roses on either side of the teak settee. 
A tabletop container of succulents is on the coffee table, and other succulents in pots are grouped near the roses. We wanted the pots to "disappear" so the focus would be on the plants rather than the containers; we used a selection of black and gray-glazed ceramic containers.
Above: Do you need to trim the grass at the edge of your patio? If so, a selection of trimmers including a Ryobi Trimmer 715965 ($59.88), is on sale at Home Depot.
Sponsored by The Home Depot. Shop Memorial Day Savings Today.
Finally, are you planning a Decks & Patios project? Learn everything you need to know on to get started with our Hardscaping 101: Decks & Patios 101 guide.
(Visited 170 times, 1 visits today)