We've all been there. Enticed by the natural beauty of pebbles, shells, and other treasures tumbled by the sea, we spend our beach vacations collecting to our hearts' content. Then we get home. Now what do with all that flotsam and jetsam?
Artist and photographer Jennifer Steen Booher of Quercus Design has a bright idea. An avid beachcomber herself, the year-round Bar Harbor resident has spent years turning her foraging finds into timeless images. One misty morning in Maine, my family and I were fortunate enough to meet up with Jenn at Hulls Cove, a favorite beachcombing spot, to learn how to make our own vacation portraits.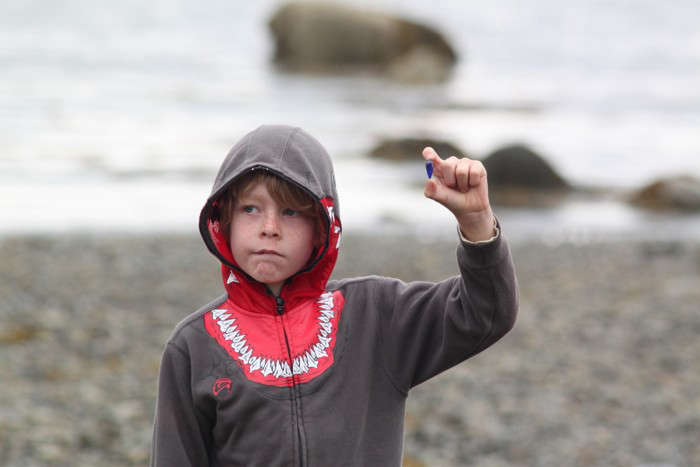 Above: Score! Oliver makes the find of the day, a chunk of beautifully worn cobalt glass the size of the half dollar.
Above: Solvi displays some of her treasures.
Above: Artist Jennifer Steen Booher admires Solvi's discoveries.
Above: Old pennies tell a story of their own.
Above: A congress of beachcombers on a misty morning at Hulls Cove on Mount Desert Island.
Above: Back home, we get to relive our vacation as we survey our finds.
Above: A composition in brown, and another in green. We arranged our finds on a light background, and I photographed them using a tripod. Jenn uses a professional light board for her vivid images. I overexposed mine a bit to create the dramatic, stark background. A little color boost in the edit brings out the brilliance of the glass.
Above: A composition in blue is a year-round reminder of our vacation. The photos can be simply taped to the refrigerator or inspiration wall, or professionally printed and arranged in a grouping. They can even be made into notecards to send to others.
Above: A rich combination of natural and human history: Our finds ran the gamut from glass to coins, shells to stones. 
Above: Experimenting with different angles and apertures.
Above: Because it was the brightest spot in my house, I shot my images on a painted kitchen windowsill. But you could experiment with different textures and backgrounds. A flat piece of driftwood would be nice.
Above: A minimalist portrait in yellow and green.
Above: Jenn is a consummate beachcomber, and her professional images feature a rich variety of Maine finds. A 12-by-12-inch image of her Beachcombing Series No. 47 is available via her Etsy site; $40.
Above: Beachcombing Series, No. 35 by Jennifer Steen Booher. Jenn is also happy to make a custom portrait for you. Just send her your finds and she'll create a professionally photographed composition. For more information on available sizes and pricing, contact Jenn via her website.
Above: Beachcombing Series, No. 17.
Updated from a post originally published August 2, 2013.
N.B.: Join Jenn at another inspiring Bar Harbor spot at Winter Wonderland Hike. And for more from Justine on what to do with your beach treasures, see DIY: Pressed Seaweed Prints and DIY: Razor Clam Pendant Light.
(Visited 218 times, 1 visits today)