A big garden can sell a property—and then you remodel the house, look out the window and realize that you are gripped with fear at what you bought. Owning the view means maintaining the view and not messing up the view. Before hiring someone else to figure it out, get to know your own space, with help in mowing.
Problem: You don't know how to fill the space.
Solution: Find a theme or set of ideas and stick to it.
Photography by Jim Powell, for Gardenista.
Repeat a Theme
A garden's theme can come from the house, from a distant clump of trees, a lake. This is a chance for creating an atmosphere.
Small-scale gardening in a big space can work by the back door, where new purchases are monitored and benefit from shelter. A large garden is not an excuse to buy a bit of everything: large landscapes need to be edited in a similar way to small gardens. Simplify ideas, with repeats of certain plants or a collection of hydrangeas in all their variety, or wide viburnums, or rambling roses.
Buy Specimens
For some people, any garden is too big, with too many choices and too many problems. Narrow everything down: repeats may sound dull but they help to give a place a strong idea. This is your chance to buy the best specimens to fulfill their potential, instead of popular dwarf varieties especially bred for small spaces.
Welcome Ramblers
When a plant is described as "spreading," "rambling," or "vigorous," rejoice! You are in the minority of people who can buy these things without kidding themselves about eventual height and breadth.
Make Room to Experiment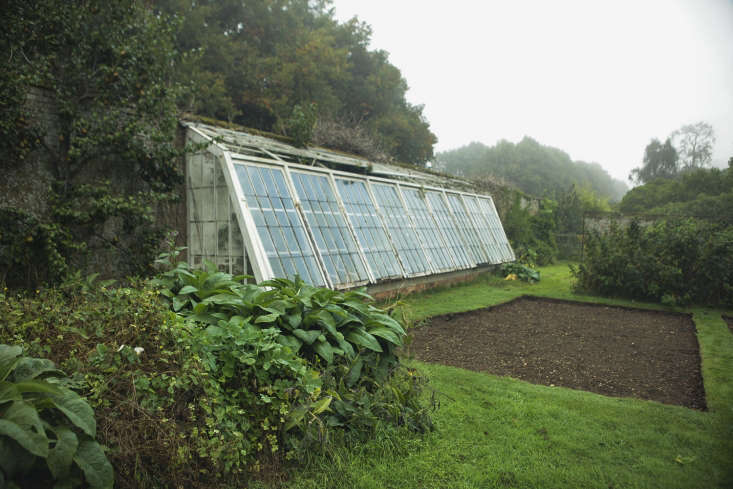 With space there is freedom to be less tidy and to experiment. The vegetable patch shown here is not part of a formal vegetable garden; it is between an old but functioning glasshouse and a chicken coop. Just as the panes of glass have been positioned for maximum sun, so it is with the bed, which is not intended for grandstanding vegetables. It could house asparagus, which takes years to get going and is not especially beautiful. Asparagus is reason to feel thankful for a large garden.
Embrace Eccentric Edibles
Some vegetables take up a lot of space. In terms of productivity, a row of raspberry canes is better value than a couple of artichokes but this is the chance to enjoy decadence, instead of running away from it. There is something romantic about ungainly and slightly eccentric-looking plants making themselves at home with you, growing with dramatic speed in their short life cycle.
Plant an Orchard
Perhaps you find yourself with thousands of apples. You will be forgiven for not using all of them; animals and birds won't judge you and the compost heap might benefit. A grove of small trees is one option but the opportunity to plant real "park" trees should be considered. Think about what grows in the area and plant a more refined version, or several. Get some peacocks, or goats. Obviously it's crucial to line up regular help, as well as any contributions from aimless children or idle houseguests.
For more garden solutions, you can pre-order my new book, My Garden is a Car Park: and Other Design Dilemmas, for £12.99 from Amazon UK. For US readers, The Problem with my Garden can be pre-ordered for $17.99 from Amazon.com.
See more installments of Can This Garden Be Saved:
Can This Garden Be Saved: "I Have a Steep Slope"
Can This Garden Be Saved: "My Garden is Windy"
(Visited 16 times, 1 visits today)