It was bound to happen: a California events company takes camping to the next level, with European canvas tents, Pendleton blankets, leather butterfly chairs–sommelier optional.
Husband and wife team Kelsey and Mike Sheofsky are the duo behind Shelter Co., which they call "a pop-up luxury camping service." The couple has partnered with properties in wine country, Big Sur, Santa Ynez, and Joshua Tree (more venues are on the way) to provide "curated outdoor experiences"; recent happenings have included a backyard birthday party in Brentwood, a wine tasting at Scribe Winery, and a campout at Leonard Lake Reserve.
Tents start at $750 per weekend; go to Shelter Co. for more information.
Above: A campsite at Leonard Lake Reserve in Mendocino County.
Above: Dining in the wild.
Above: Dining involves proper glassware, china, and table linens.
Above: When evening falls, bonfires are lit.
Above: Tents are outfitted with Pendleton blankets, 400-thread-count cotton sheets, and down pillows and comforters.
Above: An emergency kit.
Above: Board games are provided.
Above: A chef at work.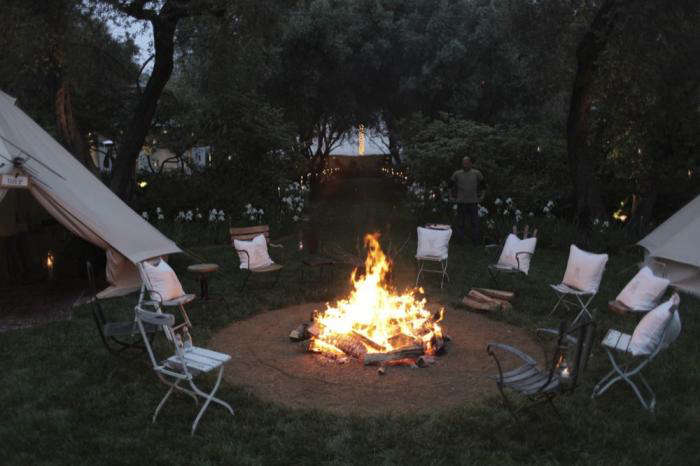 Above: A backyard bonfire in Brentwood.
Above: A mix of rustic outdoor seating at a Brentwood fete.
Above: Cofounders Kelsey and Mike Sheofsky.
(Visited 61 times, 1 visits today)