It's the height of wedding season, so we asked Royal Wedding floral designer Shane Connolly to share his top ten tips for making sure the flowers look as good as the bride:
Shane Connolly is one of the hottest floral designers around, not least because of his royal warrant. It may come as a surprise then that the affable Irishman is not a fan of pomp and ceremony. This chimes with the "younger" members of the British Royal family, who made him Artistic Director of Flowers at the wedding of Prince William and Kate Middleton two years ago, but professional relationships are not always so easy.
Among Connolly's biggest influences, he says, are nature and the seasons, which were very apparent at the Royal Wedding, where live maple trees were trucked in to create an avenue down the center of Westminster Abbey. Perhaps your wedding flowers will be simpler (or maybe not). In any case, here are Connolly's top ten tips:
Photographs by Jason Lowe, except where noted.
Above: Tubs of hydrangea, wisteria, and rhododendrons to decorate the altar at Westminster Abbey.
1. Trust. Choose a floral designer because you like his work–and then resist the temptation to micromanage.
"Trust them to make something wonderful," says Shane Connolly. Remember: you are paying someone to look after this side of things for you.
2. Atmosphere. Decide what sort of a message you want the flowers to send. Informal? Unstudied? Shane's ideas for the Royal Wedding were based, for example, on "the bride's wish to create a feeling of intimacy."
3. Context and content. Use what is available and what looks right in that place, even if it seems rather humble for the biggest day of your life. Seasonality is inspiring.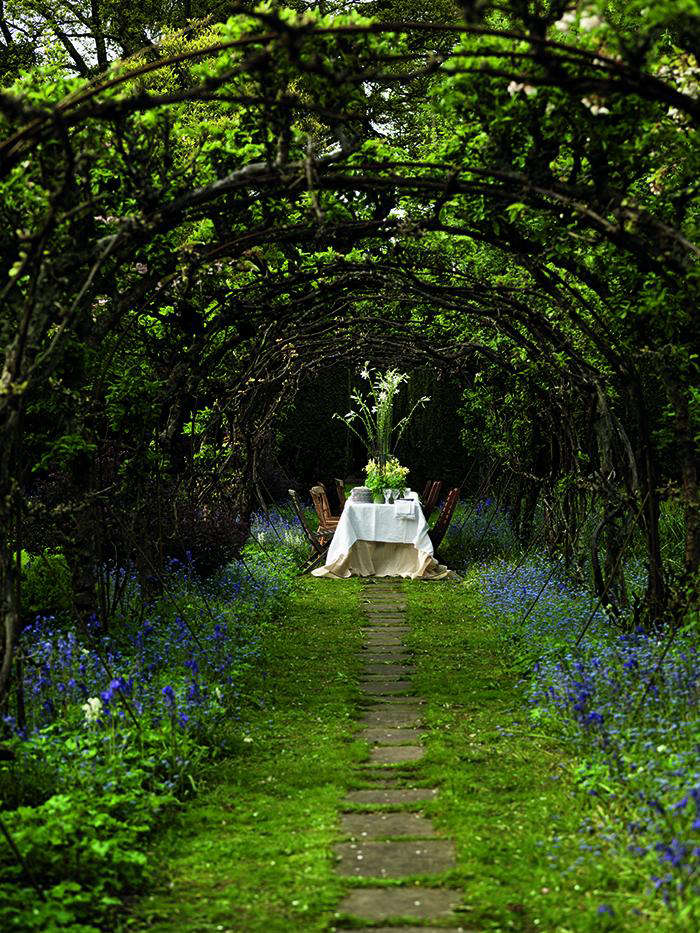 4. Be strict with yourself. Create a mood board of what you like – and don't like – and stick to it. This should keep you on course during last-minute impulses to change everything.
5. Restrict your palette. Think about using shades of the same color. "The human brain is slow to process color," says Connolly. "It is easily confused." Shown here: a classic combination of lily-of-the-valley and jasmine.
Above: Photograph by Georgie Newbery.
6. Conversely, add extra color. This can be achieved by looking beyond flowers. "It's rare to achieve the effect of "colorfulness" with flowers alone, says Shane in his book A Year in Flowers. Glass vessels can add intensity of color, while the selection of flowers remains simple.
"I love displaying single specimens so you can enjoy the beauty of the container as well as the beauty of the flower," says Connolly. "I get a thrill being able to see the flowers."
7. Grow your own. Or better still, grow some for a designer to choose from. (But try not to be over-ambitious if growing flowers for your own wedding.)
"My favorite thing is to pick what's available from a client's garden," says Connolly. "Then I'll put it into my own choice of vases."
8. Simplicity works in a big space. "Trees were the most obvious thing to have done," says Connolly about decorating Westminster Abbey. "People first worshipped in the woodlands in this country and the nave of a church or cathedral is based on the shape of trees."
Eight English field maple trees from the Prince of Wales' Highgrove estate were planted outdoors after the Royal Wedding.
9. Use live plants in pots. An upper story of shrubs or trees can be planted out for permanence and a lower story of flowers around the base can be dismantled after the service and given out as mementos. "It's a very simple and inexpensive idea that delivers a magnificent overall effect," says Shane Connolly in his book A Year in Flowers.
10. Recycle. If the royals can do it… Hydrangea, wisteria, rhododendrons, and mountains of foliage were used to decorate the altar at Westminster Abbey. It was not thrown away.
"All that stuff was either growing or cut from the gardens at Sandringham and Windsor," he says. "Most of it went back to where it came from to be composted or re-planted. How amazing is that?"
In the bridal bouquet was lily-of-the-valley, symbolizing a return to happiness. Also included were white hyacinths for constancy and Sweet William for gallantry (and the groom of course). For foliage, myrtle was taken from a descendent of a sprig in the Queen's own wedding in 1947, when she was still Princess Elizabeth.
Tempted to grow flowers for a wedding? See DIY: Secrets of Growing Your Own Wedding Flowers.
(Visited 147 times, 1 visits today)