A rustic shepherd's hut, once used to make cheese, has been restored into a simple, bucolic mountain retreat.
In 2004, Austrian Frederick Pfeffer purchased this 300-year-old stone hut in Cantal's volcanic Central Massif region, an area noted for its fromage. The mountain sides were once scattered with such huts (known as buron); until the 1950s, shepherds would spend their summers here with a herd of cows and their milking hands making cheese. Since then, many have fallen into disrepair, but Pfeffer restored this hut with the help of local craftsmen, using simple, natural materials such as beech wood from the local forest, stone, felt, and linen. Should you yearn for such bucolic bliss, the buron is available for rent. For details, visit Buron de Niercomb.
Above: The Buron de Niercombe sits perched on a mountain bluff overlooking the Cí¨re Valley, which is part of the Parc des Volcans, a National Park in Auvergne.
Above: With the absence of electricity, a wood fired stove keeps the place warm and candles are used for lighting at night.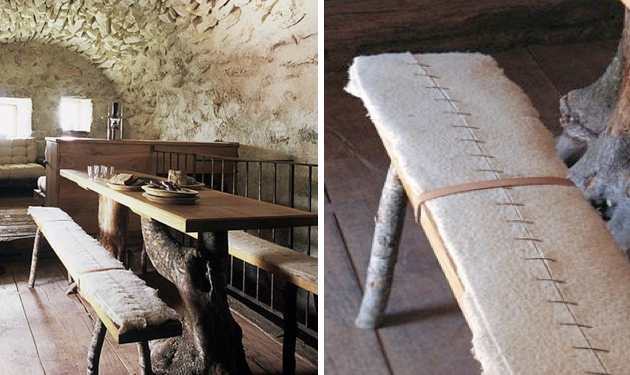 Above: Benches made by local craftsmen feature felt coverings strapped on with leather ties.
Above: Simple handmade wood furnishings and horsehair cushions that double as beds at night.
Above: Wooden stairs leading down to the basement where the cheeses were once stored. The kitchen and shower are located downstairs. Water is sourced from a nearby spring.
Above: A bench made from local stone with felt cushion covering.
Above: A weathered wood stable door at the entry.
N.B. This post is an update; the original story ran on December 19th, 2008.
(Visited 221 times, 1 visits today)