The market tote's more compact sibling is the netted cotton grocery bag. While it seems to me that the bags had some popularity in the 1990s, lately we've been noticing a resurgence–and some modern versions even include leather.
Leather
Above: French fashion house Carven has designed the Fishnet Bag with adjustable leather straps and with an orange, mint green, or pink thread; $150 at Maryam Nassir Zadeh. Also available directly from Carven and at Ron Herman.
Above: So It Goes' Small Basket Tote is made from thick cotton rope, using traditional net making techniques; $70 from Need Supply.
Above: í€ Detacher's Macrame Bag hass a slouchy, open weave in palm fiber. It is handmade in Peru and finished with leather handles; $230 from Anaise.
Vegan
Above: Jennilee Marigomen's Yukon Gold Potatoes, 2011 features a purple cotton string bag similar to the lavender bag in EcoBag's Reusable Pastel String Bag Set of 5 ($32 from Amazon). Photographed for Montecristo Magazine in collaboration with Elicia Di Fonzo.
Above: The Natural Cotton String Shopping Bag is made in France and is $10.95 from Amazon.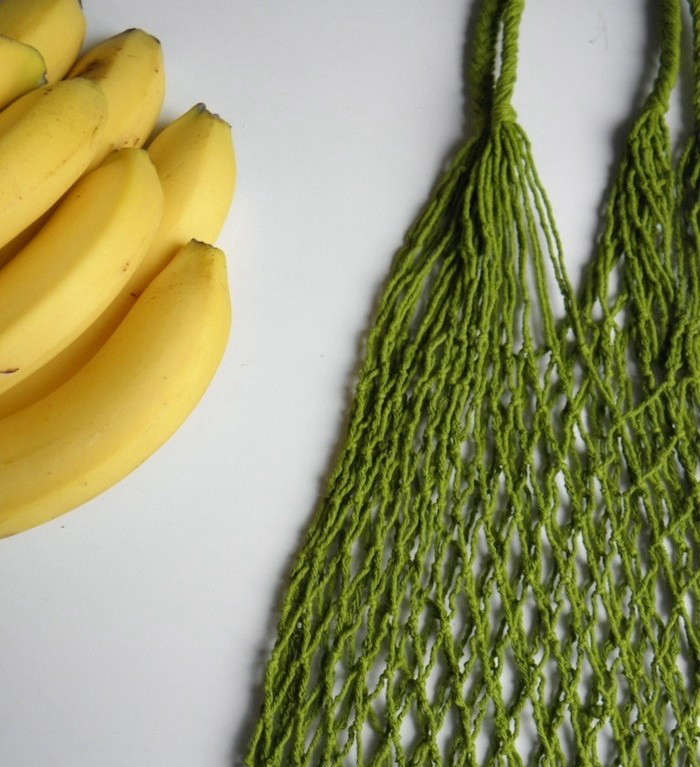 Above: Green in color and in ethos, the Reusable Shopping String Bag is designed to carry up to 20 kilograms in weight and is $12.60 from Eco Net on Etsy.
Above: The dark purple 100-Percent SKAL Certified Organic Cotton String Bag is $9.99 from Green Please For You.
Above: The French String Shopping Bag in an off white cotton is $18 from French Vintage Home.
Above: A dark green Cotton Net Shopping Bag from Better Houseware is $7.15 from Amazon (and also available in Blue).
Above: Made by Kham tribe villagers, the Kincyaku Mini String Bag is made from kuzu fiber and knotted by hand. Each bag is labor intensive and one of a kind; $39.50 from Habu Textiles.
For a sturdier option, see ten of our favorites in our recent post: 10 Easy Pieces: French Market Totes.
(Visited 123 times, 1 visits today)