What to do with a bushel of nearly gone fruit? Thrifty American colonists added sugar and vinegar to make a sweet and sour syrup that would last the winter. What did they call it? Shrub.
Don't worry, no one's suggesting you add boxwood to your G&T. But modern-day mixologists are taking a page from their forebears in tricornered hats, and adding this delightfully acidic syrup to cocktail recipes. Make your own and try it with seltzer, whiskey, or whatever your favorite beverage is. Here's a collection of shrub recipes that have tempted us this season.
Above: Fresh Apple Shrub; photograph by Marisa McClellan via Food 52.
Marisa McClellan shared her recipe for apple shrub on Food 52. It's just three ingredients: shredded apples, apple cider vinegar, and granulated sugar. She suggests mixing it in cocktails, stirring it into sparkling water, or whisking it into a salad dressing. We'll try all three.
Above: Plum Shrub from HonestlyYUM.
Red wine vinegar, apple cider vinegar, sugar, and over-ripe plums are the ingredients in a syrup concocted by Todd from HonestlyYUM. "Try saying 'plum shrub' three times fast without smiling," he suggests. Or just add a splash of his fruit syrup to vodka and shake over ice.
Above: Peach Shrub from Brooklyn Supper; photograph by Elizabeth Stark.
"If you were looking for the opposite of a schmancy cocktail, and you wanted something simple and down-home and good, surely then you would want a shrub," says Elizabeth Stark, from Brooklyn Supper. Head to the market this weekend to get ripe peaches.
Above: Calamansi Lime Shrub; photograph by Marvin Gapultos via Burnt Lumpia.
Marvin Gapultos set out to make a shrub inspired by his native Philippines, using calamansi, a citrus fruit from the Philippines, and Filipino sugarcane. The result? "A shrub syrup full of bright, calamansi aroma–think mandarin orange crossed with a lime."
Above: Peach and Berry Summer Shrub from Oh So Beautiful Paper; photograph by Nole Garey.
When Nole Garey makes shrub, she doesn't stop with just one kind of fruit. Here she combines peaches, blueberries, and strawberries in a trifecta of summery tastes. She also uses two vinegars: balsamic and champagne.
Above: Cherry Balsamic Shrub from Reclaiming Provincial; photograph by Carey Nershi.
Balsamic vinegar and cherries give this shrub a moody hue. Carey Nershi, from Reclaiming Provincial, describes it as "wonderfully tart (and a gorgeous shade of red, to boot)."
Above: Concord Grape Balsamic Shrub from Documenting our Dinner; photograph by Brianne Looze.
For late-summer drinks, Brianne Looze captured the flavor of Concord grapes in a balsamic vinegar-based shrub. "It takes a few days to put together, but the end result rewards you well for your trouble," she says. "The nostalgic flavor of Concord grapes is elevated by adding a bit of earthy balsamic vinegar, but the mixture retains brightness from a hefty amount of white wine vinegar as well. The shrub strikes a brilliant balance between sweet and tart." We'll take ours like she did, with whiskey.
Above: Blackberry Rum Shrub from Saveur; photograph by Nicole Franzen.
Impatient food preservationists, rejoice. This shrub syrup is heated for speedy results. You'll have a crimson cocktail in no time.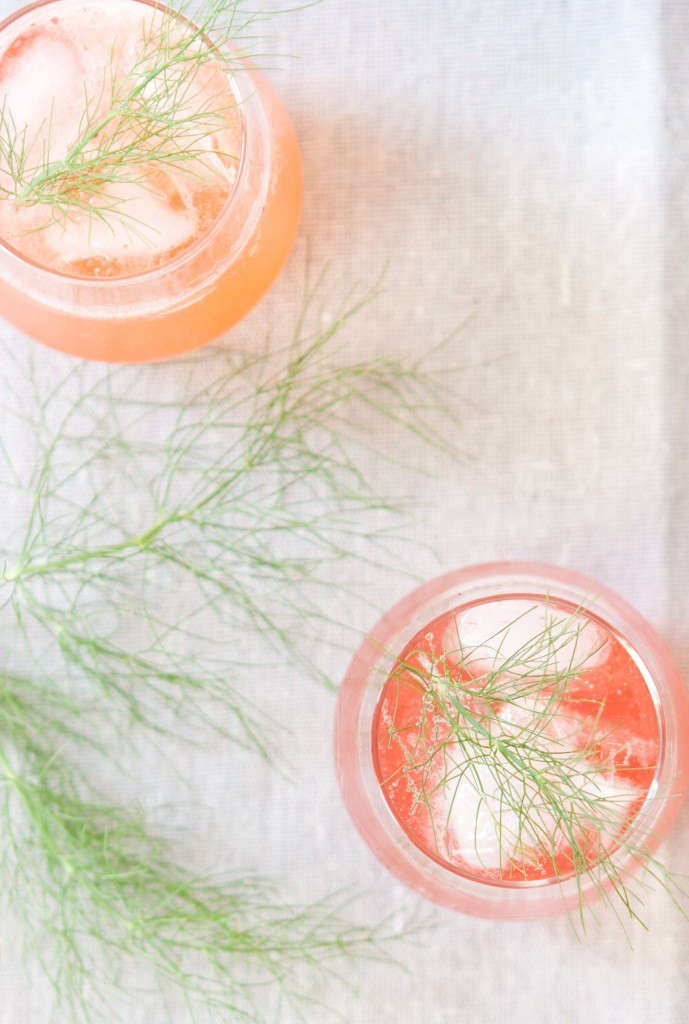 Above: Strawberry Drinking Vinegar from Five and Spice; photograph by Emily Kuross.
Strawberry season has come and gone, and we're wishing we'd bottled up a taste of the season with Emily's recipe. We're saving this recipe for next summer (but for now, we're following her lead and using fennels sprigs as a garnish from here on out).
Above: Rhubarb Shrub from Hungry Ghost; Photograph by Andrea Gentl.
Here's one to save for next spring. Andrea used a cold process to make a rhubarb shrub, allowing the fresh rhubarb and sugar to steep on the counter for 72 hours.
Search our Cocktail Recipes for other drink ideas.
N.B.: This is an update of a post published on September 17, 2013.
(Visited 59 times, 1 visits today)