Summer hats when I was growing up weren't so much fashion accessories as they were obligations. I can't say that I always wore my wide-brimmed panama without complaint, but I have my mom to thank for teaching me to protect my skin. Here's a roundup of summer sun hats: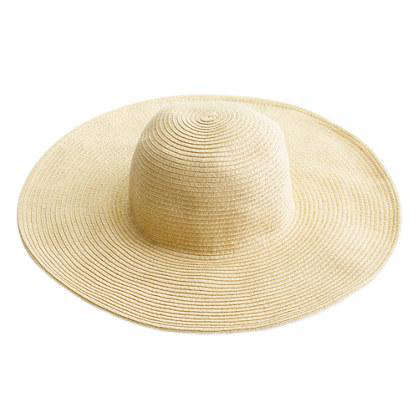 The Summer Straw Hat most closely resembles the hats my sisters and I wore as kids. It's discreet and classic, with a wide brim that offers solid sun protection; $34.50 at J. Crew.
For gardeners hoping to stand out from the crowd, this Braided Beach Hat might do the trick; $255 from Rag & Bone.
The Packable Sun Hat has a four-inch brim and is foldable for easy travel; $29.50 at REI. 
For a slightly more refined look, you might choose the Somerset Hat, $58 at Terrain.
Made of natural raffia with white top-stitching, a Lola Hats Fedora is $245 from Barney's.
The Biltmore for Madewell Woven Fedora looks like it would be lightweight and cool for hot afternoons; $49.50 at Madewell.
This Braided Wide Hat has a sun protection rating of SPF 50; $19.99 from Gardeners Edge.
Hand-blocked on a vintage wooden hat form, the straw Boardwalk Cloche has a striped grosgrain ribbon and is $169 from Madesmith.
If you're hoping to add just a touch of drama to your gardening, the Variance Floppy Hat might be your pick. It's on sale for $19.99 from Anthropologie.
Above: Crocheted of paperbraid, a Cream Bude Trilby Hat from Christys' Hats has a rolled-up brim; it's £35 from Liberty of London.
Headed to the farmers' market? See 10 Easy Pieces: French Market Totes and 10 Easy Pieces: Canvas Totes for more summer style.
N.B.: This is an update of a post published on April 30, 2013.
(Visited 146 times, 1 visits today)