Call it the Kinfolk look. Although your classic red and black buffalo check work shirt is seen more frequently these days on Brooklyn hipsters than lumberjacks, the old-fashioned pattern is still one of our favorites. Here are 10 (including a few unisex styles and variations on the theme) that will look equally good in the garden or in Greenpoint:
Above: Buffalo plaid work shirts for sale at Indigo & Cotton in Charleston; photograph via Kinfolk.
The large red and black plaid–known as "Rob Roy MacGregor" or "MacGregor Black and Red"–is actually a venerable Scottish tartan and can trace its roots to the 8th century. Some say a descendent of the Highland outlaw Rob Roy brought the pattern to North America in the 1800s, when red and black plaid blankets became much loved by the Sioux and Cheyenne. Regularly traded for buffalo pelts, the story goes, the pattern became known as "buffalo plaid."
Above: The Arapahoe medium-weight cotton flannel shirt has eight buttons up the front for a "no gap" look even when you're swinging an axe overhead. Sewn by union workers in Fall River, Massachusetts, it's available for $167 from Tradlands. Photograph by Horace & Mae Photography.
Above: Duluth Trading adds under-arm gussets and a bi-swing back to the shirts so wearers can reach farther and higher without pulling. The Flapjack Flannel Shirt Jac is heavy cotton with snap closures and multiple pockets. In six sizes and seven colors, it's $64.50.
Above: The cotton Flannel Cargo Workshirt In Buffalo Check comes in two colors, including barn red. An overlapping shirttail front helps you rock that "oh gracious, half my shirt is coming out of my skinny jeans" look; $79.50 from Madewell.
Above: A modern interpretation of the pattern, an Indigo Plaid Shirt from Gitman Vintage is made of 100 percent Japanese cotton and has a single chest pocket; 189€ from Morrison.
Above: Rag & Bone makes a thick all-cotton Leeds Check Shirt with a half button placket, curved hem, and straight back yoke; £215 at Harrod's. For US shoppers, a Rag & Bone Buffalo Plaid Shirt is $264 from Barney's.
Above: The 8-ounce cotton flannel of the Extra Heavyweight Buffalo Plaid Flannel Shirt will keep any body toasty. Made and sold by a family-owned military surplus business that started in Manhattan in 1953, the shirt is sized from men's small to XXXXL; $49.99 from Rothco.
Above: Woolrich lays claim to the buffalo check pattern, contending that it was created by one of its designers in the mid-1800s. Its name came, the company says, from the herd of buffalo he owned. A men's Buffalo Check Wool Shirt is $119 from Woolrich.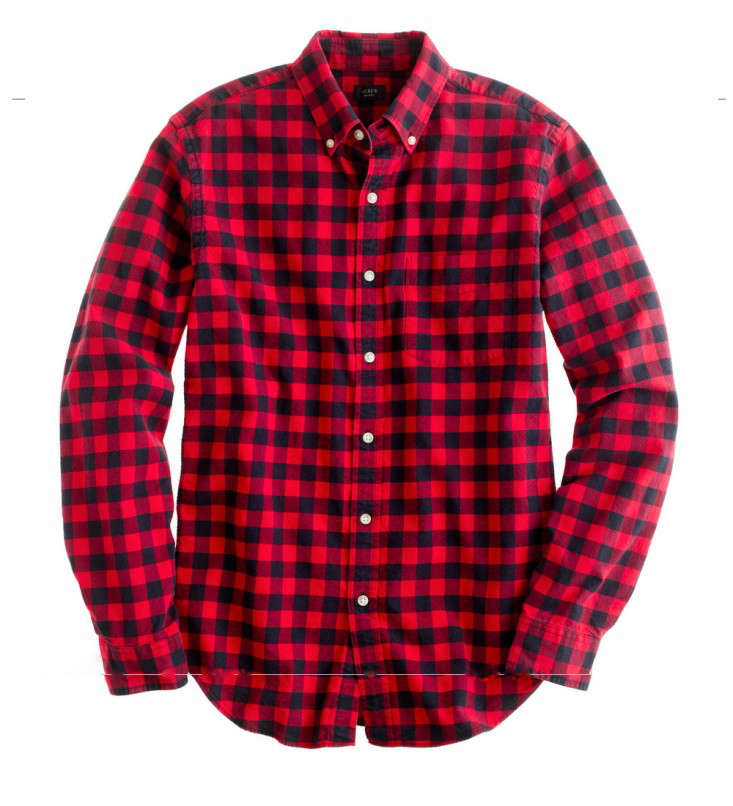 Above A men's Vintage Oxford Buffalo Check Shirt is $75 at J. Crew.
Above: The curvy Path, Present, and Future Top features a half button placket, tabbed sleeves, and buttoned flap pockets. In cotton, it's $29.99 from Modcloth.
Above: Frayed detailing and brown discolorations make NSF's Plaid Destroyed Flannel Shirt look as if it has been a gardener's favorite for many years already. Machine-washable, cotton, made in the United States; it's $288 at Barney's.
Above: Is this so wrong? A Buffalo Plaid Dog Vest is lined with fleece and velcros at the neck and chest for a secure fit. Starting at $22 from Muttropolis.
Updating your wardrobe? See Closet Cleanout: The only 10 Items of Clothing You Need. For more garden style, see Work Aprons: Keeping Clean While Getting Dirty.
(Visited 29 times, 1 visits today)