David Mullen, the founder and designer of Save Khaki in New York, recently opened Save Haven on Lafayette Street. Our friend Miye, who lives next door, dropped in recently to talk to Mullen about his new venture. "The concept is simple but modern," he says, "We carry items a guy needs for his daily lifestyle; less, but better." Although there is currently no website, you can peruse the offerings at Save Notes.
Photography by Miye McCullough for Remodelista.
Above: The capitalist piggy bank is chalk-friendly for recording your savings goals in 2012; $24.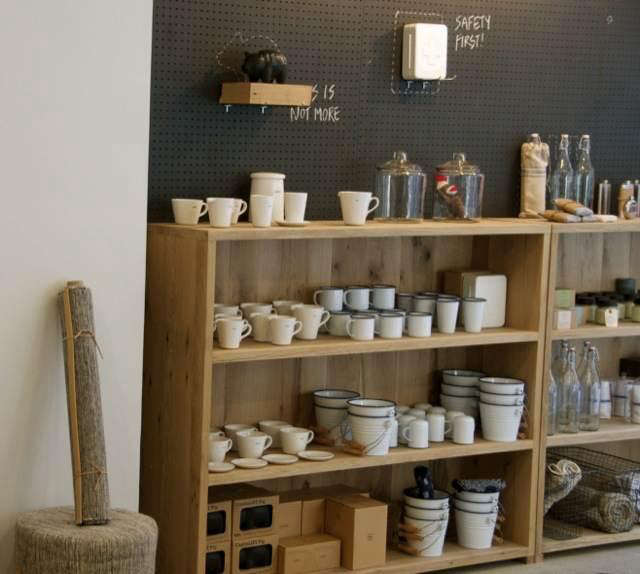 Above: The store's displays are simple but thoughtful.
Above: Boat cleats can function on shore as multipurpose hooks; $18 each.
Above: Luxurious Pehuén baby alpaca pillows and striped blankets; $300 and $310, respectively.
Above: Seagrass baskets make attractive storage containers and come in various sizes; prices start at $120 for the small.
Above: The Save Haven first-aid kit contains bandages of all different sizes and shapes; $20.
Above: Candles and linen for the table: French Laundry home-numbered napkin set, $110; Tourne Beeswax Tealights, $10 for a set of six; Tourne Beeswax Birthday Candles, $6 for a set of ten.
Above: A display of linen and cotton textiles. Save Haven aprons, $50; Fog Linen Work blankets, $130; Pi'lo pillow, $54; Servus rain boots, $75; and Behrens galvanized watering can, $26.
Above: The chalkboard is a door that slides on tracks to hide the back office.
(Visited 10 times, 1 visits today)