When it comes to garden sheds, dream big. Shelves, storage, and style: here are 10 ideas to steal to create a hardworking shed that feels like a sanctuary.
The Organized Life
Above: Says Michelle, "We understand perfectly why clutter guru Marie Kondo likes to fold her socks a special way and thank them for their service to her feet. We feel the same rush of love toward our spools of garden twine. And our pruners. And our favorite bamboo rake." For more, see The Organized Life: Stylish Shed Storage System from Pottery Barn.
Home Away from Home
Above: A potting shed in northwestern Italy that once stored only firewood is now outfitted with a sink, shelving, and a sunny window. For the rehab story, see Outbuilding of the Week: A Woodshed Transformed, by StudioErrante in Italy. Photograph by StudioErrante Architetture.
Small Can Be Spacious
Above: Remodelista editor in chief Julie Carlson's potting shed is petite but well-organized; see this one and many more in Hardscaping 101: Garden Sheds. Photograph by Michelle Slatalla.
Mini Me
Above: Mimicking the architecture and style of an adjacent farmhouse, a wood shed enjoys a Hudson Valley view. For more, see Before & After: A Hudson Valley Landscape, Pond Included. Photograph courtesy of Susan Wisniewski Landscape LLC.
Let the Sun Shine In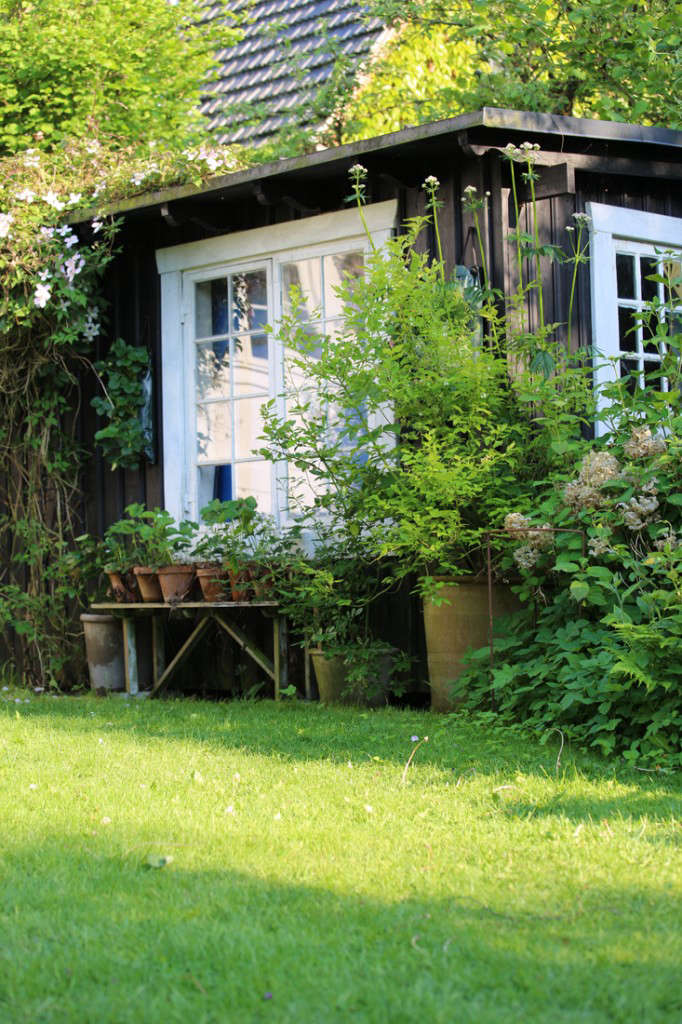 Above: In Denmark, gardener Mette Krull's black toolshed has oversized windows to let in the light. For more, see Garden Visit: Mette Krull's Danish Greenhouse. Photograph by Mette Krull.
Multi-Purpose Room
Above: The Oakland potting shed of Atomic Garden owner Jamie Kidson has room for her beekeeping gear, gardening boots, soil, seeds, and plenty more. See her whole garden in A Simple Garden in Oakland, Chickens and Bees Included. Photograph by Mimi Giboin for Remodelista.
Double Duty
Above: In Maine, a clever workspace that doubles as writer's studio and canoe storage shed has built-in bookshelves and louvered windows. Designed by  by New York-based architects Cheng + Snyder; see more in Outbuilding of the Week: A 190-Square-Foot Writer's Studio in Maine.
Off the Shelf
Above: Open shelving keeps everything organized. In her London studio where a hobby has grown into a business, Emma Sibley creates terrariums (often with foraged local finds) for private clients, as well as for local restaurants and shops. For more, see Studio Visit: Gardening Under Glass with Emma Sibley of London Terrariums. Photograph by Al Hartley courtesy of London Terrariums.
Micro Shed
Above: Gardenista editor in chief Michelle Slatalla carved out an 18-inch-deep potting shed from one side of her garage. See more in Steal This Look: My Mini Garden Shed in a Garage. Photograph by Michelle Slatalla.
Pegboard Solution
Above: In Michelle's garden shed, pegboard and hooks keep garden tools organized. Photograph by Michelle Slatalla.
Keep browsing through garden inspiration:
N.B.: This is an update of a post published December 10, 2014.
(Visited 1,136 times, 1 visits today)