Iris–or "rainbow" if you speak Ancient Greek–is hugely varied, not only in color. It grows in the desert, it grows in a pond. It prefers sun, it prefers shade. It won't tolerate competition, it's a good mingler. You might prefer yours small and cheerful in early spring or "stinking" in late autumn, with bright orange berries. But the most iconic, undoubtedly, is the tall bearded iris, so highly prized that the French monarchy grabbed it early on as part of their own branding and called it the fleur-de-lis.
The stately plant of early summer cannot help being elegant, even when breeders might be accused of trying too hard. Frilly or simple, with wild or subtle colors, bearded iris reflects the tastes of the times.
Photographs by Kendra Wilson, except where noted.
Above: Iris traditionalists like to see daylight between the standards (upright petals) and they like falls (lower petals) to actually fall. Good spacing up the stem is also important. Iris Langport Wren, chosen by Joe Swift for his garden at the Chelsea Flower Show last year, holds an RHS Award of Garden Merit, a badge of quality for plants with all-round garden value. Photograph by Jim Powell.
UK gardeners can buy Iris Langport Wren in a 3-liter pot for £6.99 from Plantify.
Above: The mainstream requirement for a long time has been for heavily ruffled petals. Iris Nordica, displayed here by Cayeux, an old French breeder. It is a celebrated and fairly new "red-bearded white."
Iris Nordica is $7.80 apiece from Pleasants Valley Iris Farm.
Above: The planting in the Centenary Garden at Chelsea this year was intended to reflect plant trends over the last 100 years which is perhaps why this iris, chosen by Roger Platts, has a more traditional look.
The iris is invaluable in late May as it appears when bulbs are on the wane and before herbaceous planting has really taken off.
Above: Like all the best plants, the bud of an iris is just as good before it bursts open.
There is a bewildering array of bearded iris cultivars, never mind the clump-forming/bulbous/fleshy-rooted varieties which could keep you in irises for almost twelve months of the year. Bearded cultivars include dwarf, intermediate, tall and table. And not forgetting miniature table.
Above: Tall "beardies" make a good show when growing en masse but look good when they are integrated among other types of plant in the garden as well. Just give them plenty of space. They loathe competition and will not tolerate having other things growing through them. Allow the rhizomes to bake in the sun by planting them at ground level, not below the soil.
Bulbous irises (including tall beardless) are more happy to be crammed in.
Above: Iris White City, favored by garden designer Jo Thompson, is an old variety that shows no sign of ever going out of fashion. Available from Kelways, £5.95 per 9cm pot.
Above: Irises formed part of the lush planting in Ulf Nordfjell's planting at Chelsea. The plants were provided by Crocus, whose reputation for providing show plants and then stocking them afterwards seems to work well for everybody. This is iris Sugar Magnolia, described as "a delicious blend of soft pink and creamy white with just a flash of salmon-orange." £12.99 per 3-liter pot.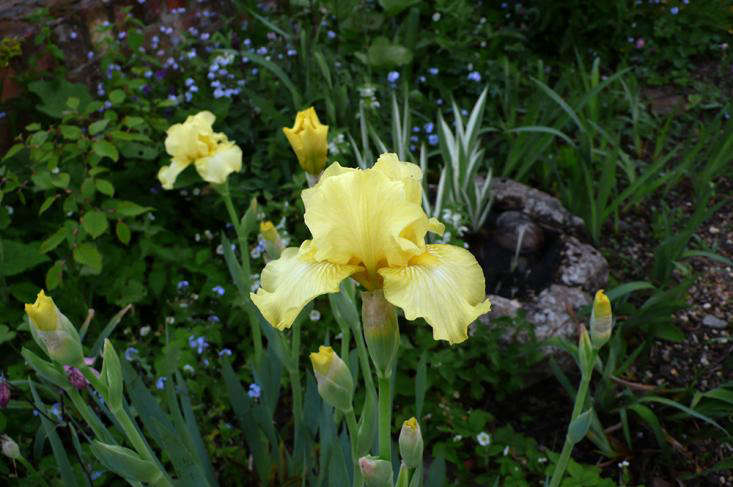 Above: The sword-like foliage of an iris makes a thrusting contrast in a herbaceous border. Irises also mingle well among themselves. Here, tall bearded in soil in a border, next to iris Pseudacorus Holden Clough in gravel, which enjoys the variegated company of the water iris Laevigatae in a water-filled stone sink. Flowers not essential.
The oldest, central part of an iris rhizome should be cut out every three-five years, leaving each new plant with a good fan. Cut the leaves down to about six inches above the rhizome, trim the roots and re-pot.
Finally, get more ideas on how to successfully plant, grow, and care for iris with our Iris: A Field Guide.
Interested in other bulbs and tubers for your garden or indoor space? Get more ideas on how to plant, grow, and care for various bulbs and tubers with our Bulbs & Tubers: A Field Guide.
(Visited 174 times, 1 visits today)