When Austin, Texas-based architect Hugh Jefferson Randolph sat down with his clients, Bill and Gina O'Hara, to imagine what their dream house could be, they conjured up some real-world reference points. Randolph thought of Fort Davis—an Indian Wars outpost in West Texas with living quarters wrapped in long, dramatic porches. His clients mentioned the colonial plantation-style property in the film Out of Africa, set in 1910s British East Africa (now Kenya). Then Randolph suggested Cibolo Creek Ranch in Marfa, Texas—and learned his clients had married there years before and kept the place very close to their hearts. It was architect-client compatibility at its finest.
Randolph, whose Austin firm is a member of our Architect/Designer Directory, set to work on a new house and a detached guest porch on nine acres outside of Austin, and the owners later engaged landscape designer Jeff Neal to fill out the gardens.
Photography by Jacob Bodkin courtesy of Hugh Jefferson Randolph Architects. Photos by Jeff Neal (where noted) courtesy of the designer.
One zone is defined by a series of low walls that landscape designer Neal created with stone found on the property. "We didn't want the landscape immediately adjacent to the house to be all natural," said Randolph, "or organic, in the geometric sense." Instead, "we wanted to use boxwoods and fences and things to define the spaces."
Neal chose pea gravel to line the garden, "both as a walking surface and as mulch for the plants." He inserted stone walking pavers as suggested pathways throughout the garden.
Though the main house—which contains all the daily living spaces for the empty nesters—is made of new brick, Randolph's team installed it with an intentionally hand-wrought look. "We didn't want the joints to look too crisp and new," said Randolph, "like commercial joints."
Both clients were very involved in the plant selection, said Randolph, which produced "a combination of plants that are always there to give [the garden] structure, and others to give a looser sense of nature." The mix includes boxwoods, grasses, and what Neal calls "cupcake trees"—large topiaries—plus seasonal vegetables and ornamental flowers to soften the arrangement.
"They're there because they have a really evocative sentimentality," he says, with a passing mention of Mister Ed.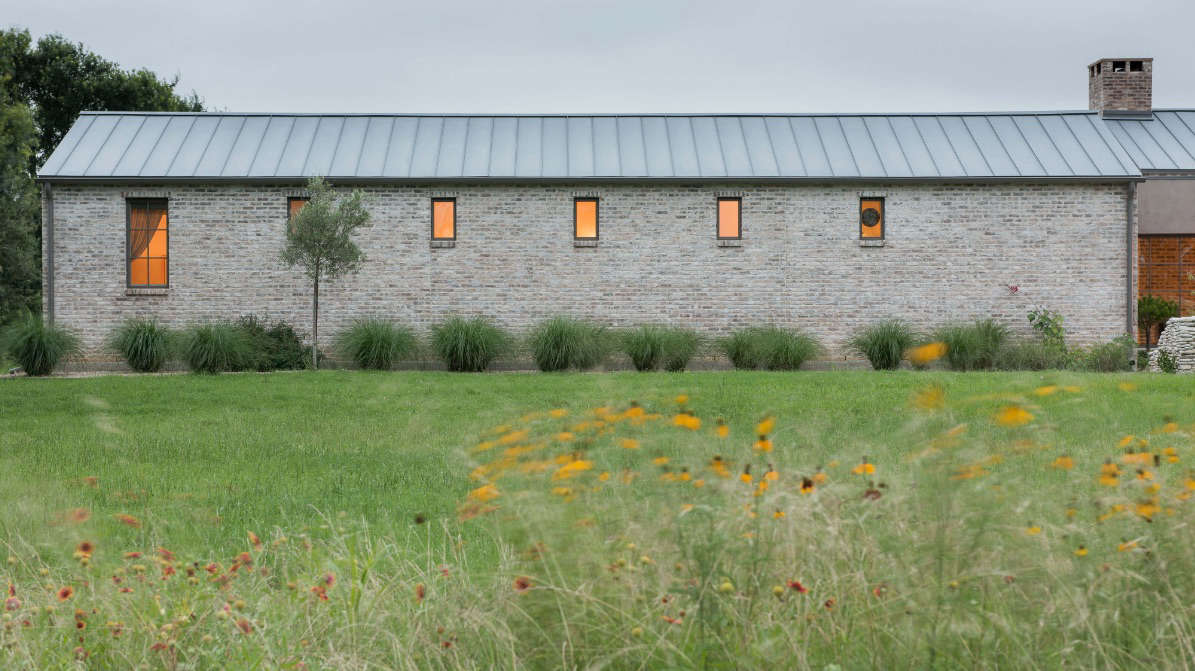 For more in the area, see Landscape Architect Visit: The Hotel Saint Cecilia in Austin, TX and A Trip on the Wild Side: Anahuac Wildlife Refuge in Texas.
(Visited 864 times, 2 visits today)