How often do you look at a reel on Instagram and think, "that is a masterpiece"? (Not often, we're guessing.) When somebody like Arthur Parkinson points us in the direction of moving pictures, however, we do sit up: especially if he is the subject. This week's digital video release of Great Gardens: Arthur Parkinson, by Toby Amies, on Nowness is a delight but it is also a masterpiece of un-compromised and thought-provoking communication.
Nowness is a global video channel, co-founded by Jefferson Hack of Dazed and Another Magazine,  with Louis Vuitton Moët Hennessy. The word "luxury" certainly comes into the platform's offering, but this is by no means the objective, especially in the Great Gardens series. These films form a small part of a wide mix of culture, fashion, and travel—with glorious garden locations, granted—but with the focus on garden people, rather than design or horticulture. The subjects are not told to be jolly; they can say what they like, and they are, therefore, utterly riveting. Let's tune in, shall we? Below, five gardening personalities featured in the films.
Photography taken from films by Toby Amies.
Arthur Parkinson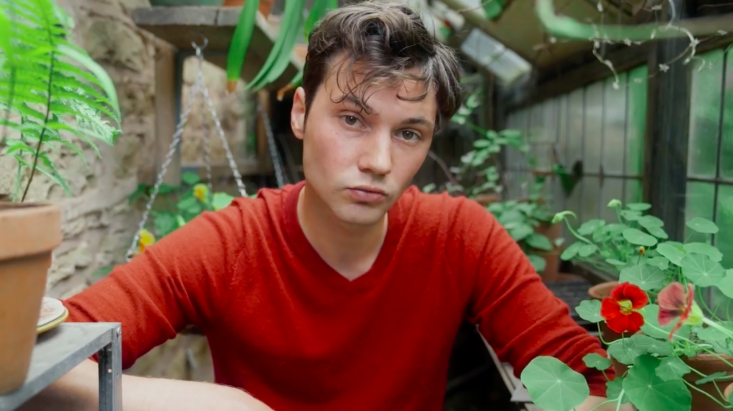 "I am Arthur Parkinson, and I am a writer and a gardener," begins Arthur. "And someone who loves chickens. And loves flowers… and bees." The belligerent look is part of the appeal of this video; it is not a nice film about chickens and flowers and bees, although it is visually gorgeous. Instead, film maker Toby Amies begins with the less floral parts of Nottingham, a former hub of industry in the British Midlands, famously characterized in the 1960s novel and film Saturday Night and Sunday Morning.
"What I want to do through my garden is be in reality, and the reality is that we're witnessing a decline of nature that we've never seen on earth before," says Arthur near the beginning of the film. "And we're also going through one of the worst mental health crises that, I think, humankind has ever seen." Tune in for the rest but suffice to say that Arthur's approach is doable, for anybody.
Pascal Brault
Another Toby Amies video visits the south of France and gardening on the grand scale. Although the gardener is a vice president of Louis Vuitton, the scale of his imagination and inherent feel for beauty earn him a place here. And he loves his garden. The joy is engaging; the garden might be a fantasy but he is just a man who is very happy being in it. "I just want to play—with different plants, to make surprises and create memories. That's all."
"I don't like too much the French garden of the 18th century. It's wonderful but not my cup of tea," says Monsieur Brault by way of introduction to his own raucous space. "To make the decision to be stronger than nature—this is not interesting for me."
Hilton Carter
"I'm not just bringing a plant in for the sake of adding color or shape to a space. I'm bringing life in," says 'plantfluencer' Hilton Carter, who has over half a million followers on Instagram. The part he is interested in is "understanding and really seeing—paying attention to a plant."
Edward James and Matthew Holmes
The Las Pozas garden, rising out of the jungle in Mexico, is a labyrinth where visitors are encouraged to lose themselves and get lost; there are no signs. It has an other worldly atmosphere, to put it mildly. "If I was a spirit… I couldn't think of a better place to haunt, than this garden," says Project Director Matthew Holmes. After a heavy snowfall in the 1960s, which killed the vast orchid collection at Las Pozas, organic shapes made from concrete began to proliferate, competing with plants.
Arabella Lennox-Boyd
"I have a feel for plants, I have a connection. I sometimes put myself in their shoes and think, 'If I was that plant, what would I want?'" says Arabella Lennox-Boyd, who takes us on a tour of her garden in the North of England, on what is clearly a hot day. Before speeding off, she concludes: "It's not easy to be a gardener. And then you have to deal with people."
(Visited 251 times, 1 visits today)