The historic site of Colonial Williamsburg, the restored 18th-century capital of Virginia, has many stunning landscapes, such as the formal Dutch-Renaissance-style garden at Governor's Palace. But during a recent visit, I was drawn to the humble gardens outside the more modest houses. On these plots, Williamsburg's researchers and re-enactors use traditional tools and period plants to create living examples of historic gardens.
Photography by Justine Hand for Gardenista.
Above: The experts at Colonial Williamsburg use archeological evidence and historic documents to recreate authentic period gardens. In the colonial era, only the very wealthy would have separate gardens for vegetables, herbs, and flowers. So here in the kitchen garden behind Shield's Tavern, larkspur and foxgloves mix with dill and other herbs to form a textured border.
Above: Hearty cabbages (a colonial favorite) also grow in the Shield's Tavern garden, which provides the produce for the tavern's 18th-century menu. Note the neat beds: Colonial gardens were organized, symmetrical affairs.
Above: At the Colonial Nursery and Garden, the beds are protected by low "wattle" fences and separated by crushed-shell paths. It all makes Revolutionary-era gardening look pretty romantic, but you should know that by the time of the Revolution, most colonists had given up growing their own vegetables. It was just too unpredictable and too much labor–think 50 trips to the well and back, according to a vivid account by Therese Ciesinski. In 1750, diets consisted of less than 10 percent vegetables, mostly grown on nearby plantations.
Above: A closeup of one of the wattle fences. The shells come 
from nearby Chesapeake Bay.
Above: Workers at the Colonial Nursery and Garden use only period tools. Many of the charming wheelbarrows are made on-site.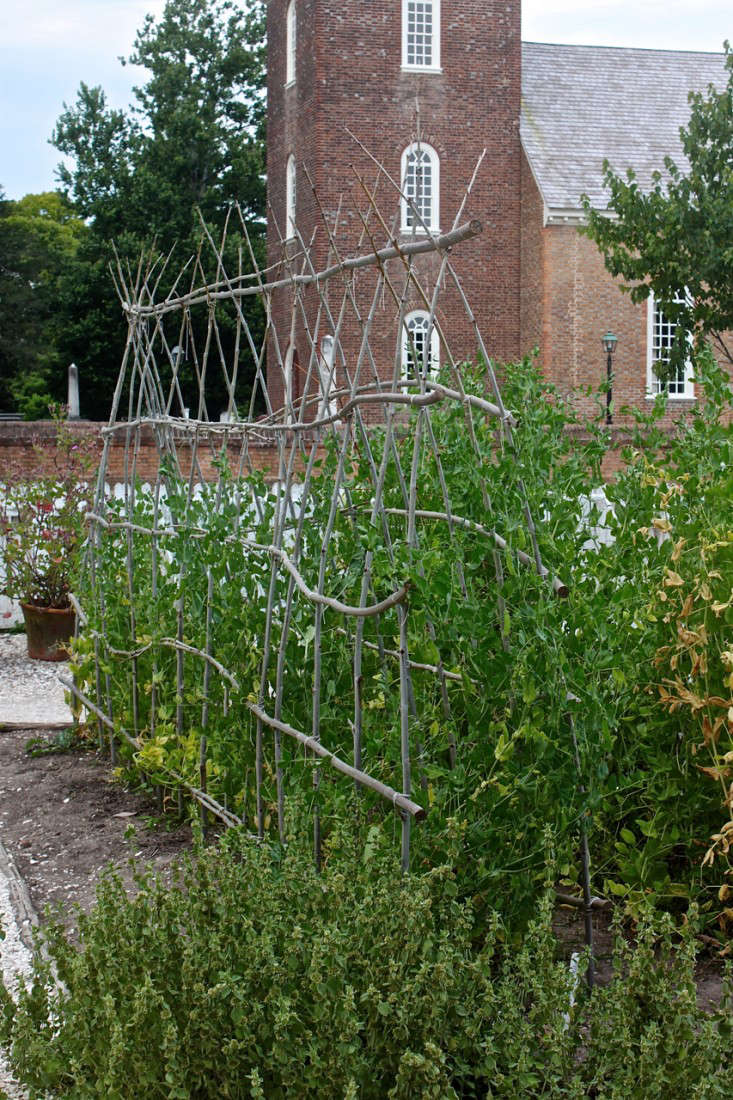 Above: Colonial Williamsburg's garden structures are just as intriguing as the plants. Here, a bent-twig trellis supports growing peas.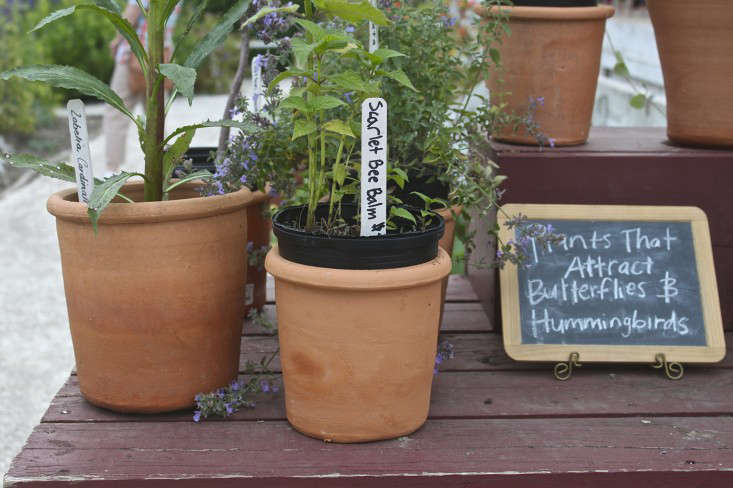 Above: The nursery sells a wide selection of plants, period tools, and simple pots made on the premises.
Above: Among the many small flowerbeds, this vibrant display of poppies and cornflowers stood out.
Above: Herbs and other plants favored by the colonists line the walkway outside the nursery.
Above: You can also buy a hand-woven basket for gathering vegetables and flowers back home.
Above: Broken pots? No worries. Terra-cotta shards serve as mulch around this garden shed.
Above: Peas destined for one of the taverns, where the kitchens follow traditional 18th-century recipes.
Above: Much like the gardens at Colonial Williamsburg, livestock pens are nestled right up against the houses. Here, spring lambs feed at twilight.
Above: A kitchen garden, conveniently close to the house.
Above: The fruit orchards are enclosed with a variety of period fencing.
Above: No matter how small, each colonial cottage had its own yard and garden.
Want to see more colonial gardening techniques put into practice? See Hardscaping 101: Seashell Paths and Driveways and Garden Must-Have: Woven Willow Fences and Trellises. You can also take a tour of Williamsburg in the 21st Century over at Remodelista.
Don't forget to vote for the finalists in the 2014 Gardenista Considered Design Awards! Until August 8th, you can vote once a day in all seven categories. We're announcing the winners on August 9th.
(Visited 465 times, 2 visits today)