Rhubarb is one of the tastiest plants you can find in a springtime garden. Here's a simple recipe for turning a prized late spring plant into miniature hand pies that are just the right size for snacking.
Photographs by Erin Boyle.
The rhubarb plant in my parents' garden is large and unruly, but it's nearly 20 years old and virtually fuss-free. Over the weekend, my husband James and I harvested tall stalks to turn into something sweet.
The best way to harvest rhubarb stalks is to twist them close to their base. Twisting invigorates the roots in a way that cutting with scissors can't. On young plants, stalks should be harvested only for the first two weeks of the season, but on older plants like the one at my parents' house, the stalks can be harvested from late spring through most of the summer. Stalks that are at least a centimeter in width are ready for harvest.
Before washing the stalks, we clipped off the large rhubarb leaves and added them to a compost pile. Rhubarb leaves are poisonous to humans, so don't be tempted to eat them. We used a pair of Burgon and Ball Garden Shears, available at Kaufmann Mercantile for $52.95, to trim the leaves.
The full recipe for the rhubarb hand pies is at the bottom of the post, and here are a few step-by-step photos of the process to encourage you to make your own. To begin, I sliced my rhubarb stalks into 1/2 inch pieces.
Next, I tossed rhubarb with turbinado sugar and cornstarch to make a simple filling.
All it takes is a little bit of heat and a few minutes for the rhubarb to begin to melt. When the liquid begins to thicken and the rhubarb becomes soft, the filling is done. After I turned off the heat, I added a bit of vanilla and a touch of salt for additional flavor.
I used a small metal bowl to cut 4-inch rounds from a simple pastry dough that James made using flour and butter and just a little bit of water.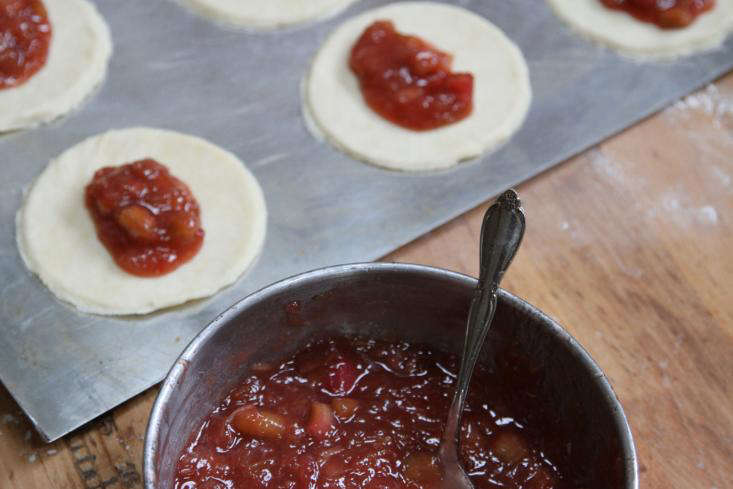 With hand pies, the tendency can be to overstuff (and I was actually tempted to double the original filling recipe, thinking I'd need more). But in this case, a little goes a long way. 
I folded each round of dough in half over the filling and used an old-fashioned pie crimper to make the seal. To help keep your hand pies closed, it's useful to brush a bit of egg white around the edge of each pie before crimping. If you don't have a pie crimper, you can use your fingers to pinch the hand pies closed.
The original recipe calls for starting with a high heat oven and then lowering the temperature, but I baked my pies for about 30 minutes at 350 degrees and they came out just right.
All wrapped up in parchment paper and tied with twine, these hand pies made the perfect portable addition to a picnic. 
We gave our pies a test run at the Memorial Day parade in my hometown, and they were a huge hit.
Even tiny Emma gave her seal of approval.
I adapted these hand pies from a recipe by Grand Central Bakery. 
Here's what to use:
For the filling
1/2 pound rhubarb (about five stalks, chopped into 1/2 inch pieces)
1/2 cup turbinado sugar
1 tablespoon corn starch
1/2 teaspoon vanilla extract
2 pinches salt
For the dough 
1 stick butter, cut into small pieces
1 cup flour
1 pinch salt
3 tablespoons cold water, or more if needed
1 egg white
Here's how to use it: 
For the filling
Wash and remove leaves from your rhubarb stalks (reminder: rhubarb leaves are poisonous to humans, so don't be tempted to cook them). Slice rhubarb stalks into 1/2 inch pieces and toss with sugar and corn starch. Add rhubarb mixture to a heavy-bottomed skillet and heat until gently boiling, about ten minutes. When the rhubarb has softened and the juices have thickened, remove the skillet from heat and season with vanilla and salt. Transfer the filling to a small bowl and pop it into the refrigerator to cool it down.
For the dough
Note: One recipe of dough makes about eight hand pies.
Mix together flour and butter using a pastry cutter, fork, or food processor as you prefer. When the mixture reaches the consistency of small crumbs, add two or three tablespoons of cold water and combine with your hands to form a dough. Make ahead and refrigerate for at least a half an hour before rolling it out. A 4-inch circle makes a nicely sized hand pie; use the rim of a small metal prep bowl or a wide-mouthed mason jar to cut circles. Next, place a tablespoon of chilled filling into the center of each round. Using the tip of your finger, swipe a small bit of egg white around the edge of your circle. Fold the dough circle in half over the filling and pinch or crimp shut. Score the top of each hand pie with the tip of a knife to let out steam, and use a pastry brush to cover the top of your pies with egg white.  Place your pies on an ungreased cookie sheet and slide into a preheated 350-degree oven. Bake for 30 minutes, or until richly golden brown.
If mud pies are more your speed, see DIY: Mudpie Kitchen.
(Visited 62 times, 1 visits today)