Right about now, anyone with a vegetable garden is trying to come up with new ways to eat zucchini. Fried, battered, or baked, these prolific plants are the gift that keeps on giving. Are you, too, searching for delicious ways to dispatch a surfeit of summer squash? For ingredients and step-by-step instructions for zucchini carpaccio–and other zucchini recipes–read on:
Photography by Laura Silverman for Gardenista.
Above: Early in the season, zucchini plants–from the species Cucurbita pepo–are all floppy green leaves and big golden flowers. But by August they are usually delivering more squash than one kitchen can handle. Ideal at about 7 inches long, zucchini seem to grow exponentially overnight, morphing into the enormities known to the British as "marrows."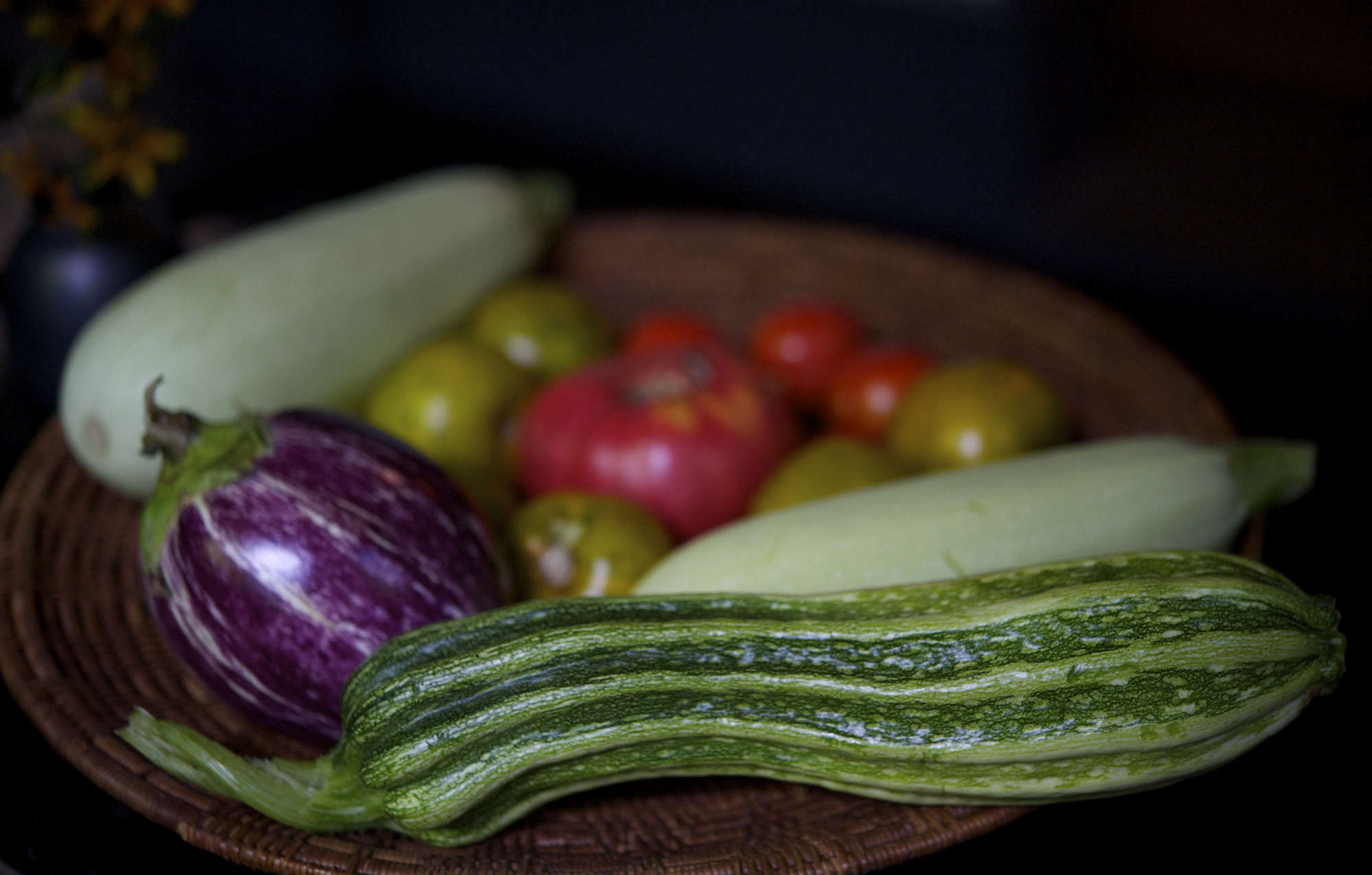 Above: There are numerous varieties of zucchini–the classic green; the striped and ridged Romanesco (above); and others that are white, deep orange, or brilliant yellow. They are all characterized by relatively tender skin, unobtrusive seeds, and delicately flavored flesh.
Above: Because zucchini pack a lot of water, they're great for soup. I make one by cooking golden zucchini with onion and Indian spices, then pureeing the ingredients in the Vitamix. Garnished with fresh herbs and puffed rice, this soup is good hot or cold.
Above: To make zucchini fritters, you'll need to remove some of the moisture. Start by shredding zucchini using your food processor or a box grater, then wrap it tightly in a towel and squeeze with all your might. Mix the decidedly drier shreds into a loose batter with beaten egg, milk, and flour, then stir in crumbled feta and lots of chopped mint.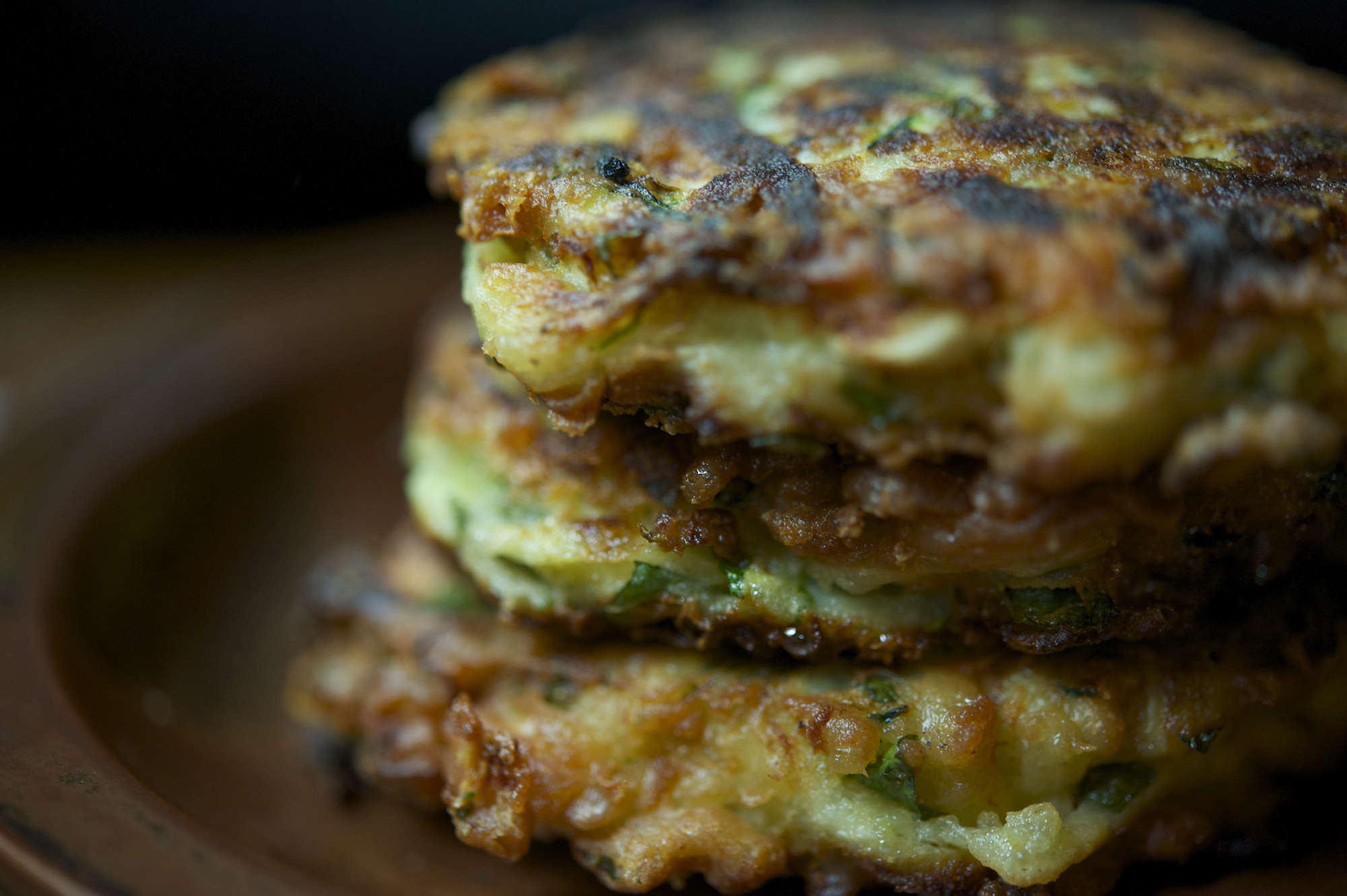 Above: Form this batter into small cakes and shallow-fry in oil for the most wonderful fritters. Serve with a little spiced yogurt and a spoonful of chutney on the side.
Above: Zucchini blossoms are edible and delicious. Choose firm, fresh blossoms, preferably males, since those don't have incipient squash forming beneath them. Give them a good shake to make sure there are no bees inside.
Above: I like to stuff the flowers with fresh ricotta and herbs, roll them in egg, dredge them in flour, and fry them in neutral oil until they're crisp and golden. Sprinkle with flaky sea salt for extra crunch, and serve hot.
Above: Still staring at a pile of zucchini? Grate it up, but don't bother to squeeze out the water. It works wonders in a moist cake studded with toasted walnuts, enriched with olive oil, and cleverly spiced with ground ginger and fresh rosemary.
Above: Too hot to cook? Beyond toasting a few pine nuts, you only need to wield a knife for this elegant raw salad, inspired by the traditional Italian carpaccio. Paper-thin slices of squash are the basis for a light and satisfying dish in which not much gets between you and your zucchini. 
 Zucchini Carpaccio
Serves 2 as a main course, 4 as a side dish or salad. 
1/3 cup pine nuts
1 large zucchini, or 2 medium
1 large handful fresh basil leaves
Juice from half a lemon
Extra-virgin olive oil
Parmesan cheese
Flaky sea salt, like Maldon
Toast the pine nuts in a skillet on top of the stove or in the oven. Set aside. Ҭ
Slice the zucchini as thinly as possible without driving yourself crazy. (Or use your mandoline.) Ҭ
Thinly slice (chiffonade) or chop the basil and spread on top. Next, scatter the pine nuts. Squeeze the lemon juice over everything; drizzle generously with olive oil. Ҭ
Using a vegetable peeler, shave curls of Parmesan on top. Sprinkle on some sea salt for crunch. ҬServe immediately.
For more recipes from the garden, visit my blog Glutton for Life. Growing your own zucchini? May we suggest The World's Best Tasting Zucchini?
(Visited 75 times, 2 visits today)