I'm not good at remembering to drink water. The number of glasses I drink on a daily basis often doesn't move beyond two–never mind the recommended 
eight. But like most things, if I put some effort into the ritual, I find myself taking gulps more regularly.
Whether you're trying to increase your own liquid intake or impress guests with a fancified version of a classic refreshment, these two herbal waters will elevate drinking water from a mere necessity to a veritable pleasure.
Photographs by Erin Boyle.
During a weekend visit to my parents in Connecticut, I took advantage of their ample herb garden to concoct two herbal waters that are perfect for early summer. A mix of sweet woodruff, stevia, and strawberry made a sweet thirst quencher, while lovage, lemon peel, and lemon balm made one that was as bright as it was refreshing. 
A 4-inch-tall Rings Juice Glass is 95 cents from Crate & Barrel.
For my first herbal water, I did a non-alcoholic riff on the classic German May Wine. The ingredients: sweet woodruff, stevia, and a handful of fresh strawberries.
A set of three Vintage Glass Ball Jars with glass lids and wire bale seals was offered at $18.99 by KTsVersion via Etsy.
Sweet woodruff is an herb that carpets shady spots under trees. I picked a few stems from the patch in my parents' yard, and used both the flowers and the leaves to make my water.
First, I let the woodruff flowers wilt a little to make their slightly sweet scent more pronounced.
Next, I picked a stem of stevia. An innocuous-looking herb with a very sweet secret, it's often used in powdered form as a sugar substitute. The leaves can also lend a sweet note to cooking.
I pinched five or six stevia leaves and slightly bruised them with the back of a wooden spoon to release their essential oils. Then I added them to my quart jar.
For the best flavor, I got strawberries from the farmers' market.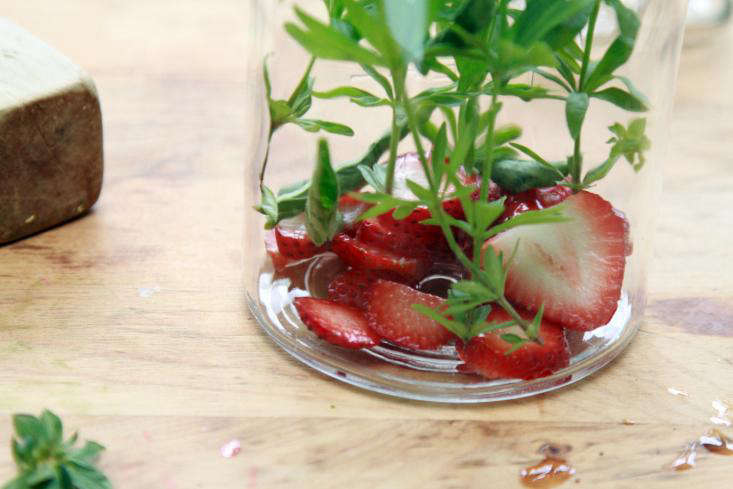 I sliced five strawberries thinly and added them to the stevia and sweet woodruff in my quart jar. 
Next, I filled the jar with fresh water and refrigerated it overnight. The water turned a delightful shade of pale pink. If you're serving it to guests, you might want to strain the water and add fresh fruit, as the strawberries will have lost some color overnight.
The second recipe: For a brighter, crisper-tasting water, I combined lovage, lemon peel, and lemon balm.
Lovage, one of the first herbs up in the garden, is often under-appreciated. Its sharp, celery-like flavor makes it perfect to add a little kick to water.
I used only the leafy tops of the lovage stems.
For an extra bite, I peeled some lemon rind, making sure not to take too much pith, which would make the water bitter. Note that any ingredients you add to herbal water should ideally be pesticide-free. 
For good measure, I added a few leaves of lemon balm. As with the stevia, I lightly bruised the lemon balm to release the essential oils.
When you're making herbal waters, the possibilities are nearly endless. I like these two versions because they're a little unexpected without being totally foreign. Now, how about you? I'd love to hear what you're adding to your water this time of year. 
This is an update of a post originally published May 29th, 2013.
(Visited 397 times, 1 visits today)