How to make room in tight quarters for all the plants you want to welcome in? A few years ago while housesitting, Maria Bergström discovered how much she loves living in a jungle. "My motto is: There should always be a plant in sight, no matter where you look," she says. Recently, however, Maria and her boyfriend moved into a one-bedroom sublet in Stockholm that came with plenty of sunlight and even a shared garden, but not a lot of indoor space—and the stipulation that they refrain from making "big changes, like painting the walls or rebuilding things."
Maria happened to be the perfect person for the challenge: she's a product designer—in addition to a full-time job at Transformator Design, she freelances for Ikea. Using little more than a broom handle and some YouTube lessons in macramé, she came up with an ingenious solution that we discovered via her leafy Instagram feed, @TheHiddenAdventure. Maria kindly offered to explain her hanging wall and "plantscape," DIY cactus coasters included.
Photography by Maria Bergström.
Maria trimmed a broomstick to fit her wall and hung it with macramé planters. A sideboard made from Ikea kitchen cabinets anchors the setup: it's topped with birch plywood and layered with succulents.
Cotton string planters similar to Maria's are easy to find on Etsy—see the Macramé Planter from Hanging Vibes, for instance, and the Warm Grey Company's Macramé Planters with Paper Pot Covers. Also consider checking out the DIY instructions on YouTube: "Just search 'plant hanger macramé,' and you'll find a tutorial that suits you," says Maria. "After I got the hang of it, I started experimenting with different size and styles to fit the plant wall."
Above: The planters hang from wooden curtain rings that Maria bought at a secondhand store. For planters she uses a mix of vessels, including clear glass jars and vases that she finds at thrift stores.
Above L: A look at the simple metal brackets. Above R: The macramé planters are looped onto the wooden rings.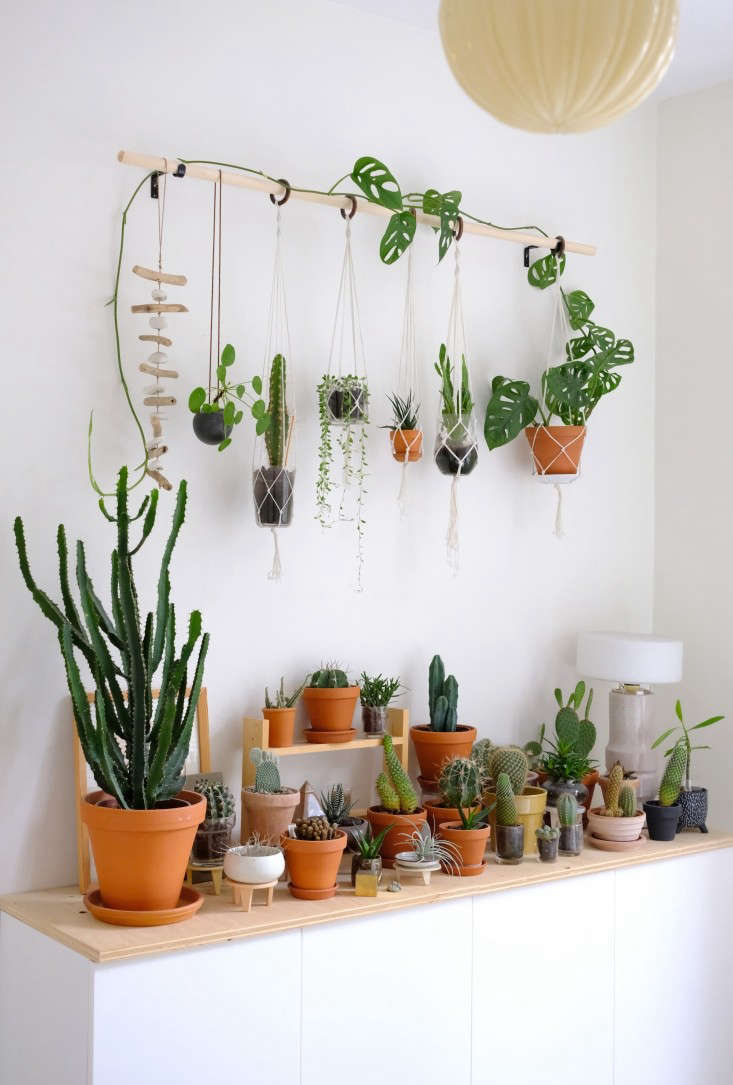 The specimens on her shelf include a fast-growing Euphorbia trigona on the far left, some air plant tillandsias (read about them in Gardening 101: The Air Head), "a succulent called Lithops that looks like stones, and lots of different cacti." For more ideas, go to 5 Favorites: Mini Houseplants for Apartment Living.
She used a white air-drying clay —"because I don't have access to firing and glazing"—and finished her tiny tables with acrylic paint. For a similar clay, consider Activa Plus; $9.98 for 2.2 pounds, from Amazon. For additional height, Maria made a shallow pine shelf (see previous photo) that's based on one she saw at a flea market.
Maria grew up in a small town in the south of Sweden and says, "I have had the privilege of moving around a lot." After receiving her BA from Linnaeus University, she spent a year as an exchange student studying graphic design at LSU in Baton Rouge; she got her MFA from the University of Gothenburg in 2012, and has been contributing designs for Ikea ever since.
For more plant and display ideas, take a look at:
(Visited 58 times, 6 visits today)