One of my favorite elements of this week's Shopper's Diary of Blueberry Café in the KwaZulu-Natal Midlands of South Africa are the hanging plant baskets suspended from the glass atrium. They manage to be playful and whimsical without feeling twee. The plant hangers are modeled on vintage vegetable baskets and were commissioned by Anatomy Design for their redesign of the café. They've got me thinking about a DIY version, and I've rounded up the goods I think I'd need to recreate the look:

Above: Hanging wire planters at the Blueberry Café. Photographs by Samantha Maber.
Above: For starters, a 12-inch Traditional Coco Basket comes with a molded coco fiber liner that can easily be removed; $6.98 at Home Depot.
Above: To recreate the coppery shine of the wall-mounted planter and copper lights hanging throughout the store, I'd consider using a metallic spray paint. An 11-ounce bottle of Rust-oleum's Metallic Spray, Copper is $15.05.
Above: I prefer the clean lines of the wire hangers used in the Blueberry Café design, so I'd remove the chains from my hanging basket and replace them with 20-Gauge Hobby Wire; $12.28 at Tool King.
Above: To complete the clean look, I'd use aluminum wire Crimping Sleeves to secure the wires to the basket; 50 for $5.99 on Amazon.
Above: A Leatherman Super Tool is a handy multipurpose tool to have around for all sorts of craft projects and it includes a wire crimper tool; $72.97 at Tool King.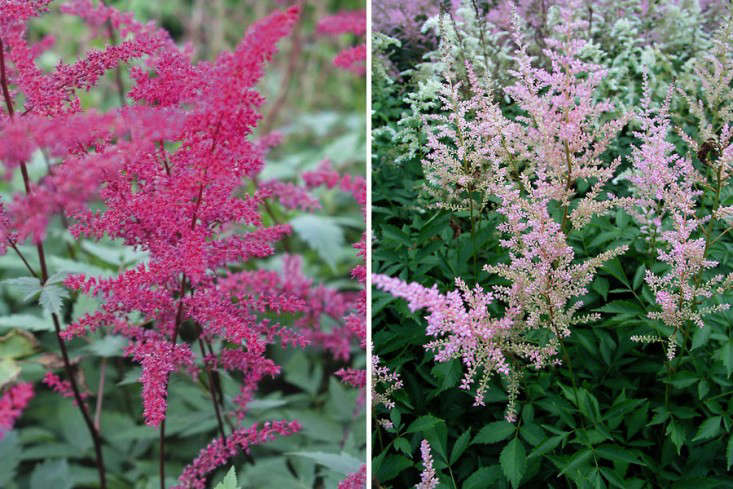 Above: The café's hanging wire planters hold what appear to be small astilbe starts still in their nursery pots. Two of my favorite astilbes are the Astilbearendsii 'Peaches and Cream' and Astilbechinensis  'Serenade'; both $8.95 at Bluestone Perennials.
What do you think? A passable hack or a DIY project with potential to go haywire?
Not convinced that metallic spray paint would do the trick? See Izabella's recent Remodelista DIY: The $7 Pendant Light Redo featuring a faux brass finish.
Prefer not to go the DIY route? Browse our featured Hanging Planters.






(Visited 81 times, 1 visits today)