Everyone knows that starting the day with a well-balanced breakfast is a good idea and as far as I'm concerned, this is especially true on Christmas. It's a day when, if I'm not careful, I might happily fill up on melty foil-wrapped chocolate Santas in front of the fire and drift into a sugary stupor. A proper Christmas deserves a proper morning feast. But it also shouldn't be anything too complicated—there's dinnertime for that. Fresh juices, an indulgent smattering of fresh fruit, something warm from the oven, something savory, and something sweet sounds perfect to me. Olivia Rae James agrees. Here, her dreamed up version of the perfect Christmas morning spread.
Photography by Olivia Rae James.
Above: Olivia's idea of the perfect Christmas morning spread.
Above: Olivia's boyfriend, Blake, was in charge of making the cinnamon rolls. He used Oh, Ladycakes Small Batch Cinnamon Rolls recipe, but added a boozy addition to the glaze: a touch of whiskey. Don't mind if we do.
Above: To offset the sweetness, Olivia made tartines of smoked salmon and whipped cream cheese on toasted sourdough bread.
Above: Part of Christmas morning tradition in my family, too. Olivia broiled halved oranges, sprinkled with cinnamon and brown sugar, until they were just warm.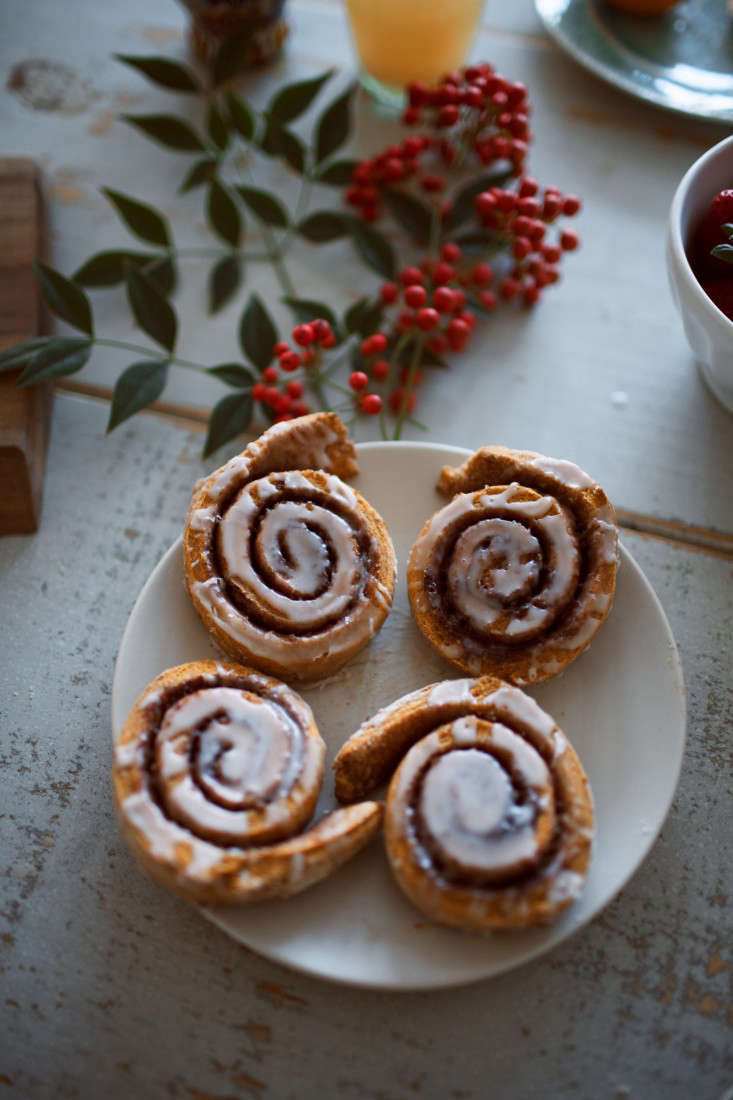 Above: Blake's glazed cinnamon rolls, ready to eat.
Above: Coffee and grapefruit juice to wake up sleepy family members.
Above: Breakfast in action. What about you? What you are your favorite holiday breakfast treats?
For more of Olivia's festive recipe ideas, see A 5-Ingredient Holiday Cocktail Party and Mulled Apple Cider With a Secret Ingredient.
(Visited 29 times, 1 visits today)