Transforming space constraints into opportunities for good design is a favorite theme of ours; in this instance, LA-based Kevin Oreck (a Remodelista Architect/Design Directory member) has created a flexible, light-filled 1,500-square-foot home on an extremely narrow site (39 feet wide) with a limited budget. Oreck's thoughtful placement of windows maximizes light and views of the garden without compromising privacy; a 40-foot-long long band of windows runs through the center of the house, affording views of the sky and treetops beyond. "One of our favorite aspects of the house is that we utilize every square inch of it each day," says the artist owner who lives here with his food-stylist wife and their young son. "There is absolutely no wasted space."
Above: Oreck used a combination of honest, simple materials—concrete, glass, metal, and plywood—in his shedlike design.
Above: A 40-foot-long band of high windows runs through the center of the house, affording views of the sky and treetops.
Above: The owners' collection of midcentury furniture includes a Danish dining table and Baumritter chairs.
Above: The cabinetry throughout the house is constructed from 13-ply birch plywood and was custom designed by Oreck; the countertops in the kitchen and the baths are Carrara Marble from Daltile.
Above: A light-flooded corner features a Brown Saltman dressing table paired with an Eames Rocker.
Above: Clerestory windows maximize light without compromising privacy; the George Nelson Ball Lamp is from Modernica in Los Angeles.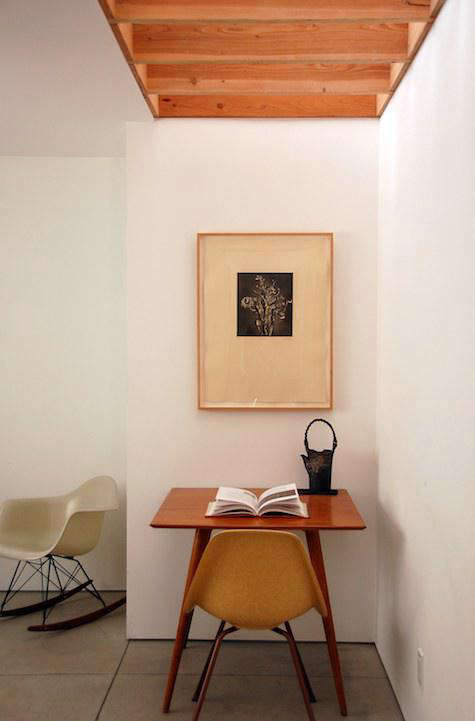 Above: The exposed ceiling frame features translucent panels that back-light the study space below (outfitted with a Paul McCobb table and an Eames rocker).
Landscape Design by David Fletcher of Fletcher Studio Landscape Architecture + Urban Design. Artwork by Stas Orlovski. Photography by Kevin Oreck.
(Visited 56 times, 1 visits today)