By putting colorful patchwork tile on nearly every inch of the walls and floors of a tiny house's open-air kitchen and courtyard garden, Vietnam-based architects a21studio transformed the miniscule into something magnificent.
Designed for a journalist who works for architectural magazines and built on a tight budget, a 430-square-foot house in Binh Duong Province barely has any walls–its framework of steel beams is covered with a skin of see-through mesh and corrugated panels.
The big splurge? A crazy quilt of colorful tile visually connects indoor and outdoor spaces and transforms the entire ground floor into a garden.
Photography via a21studio.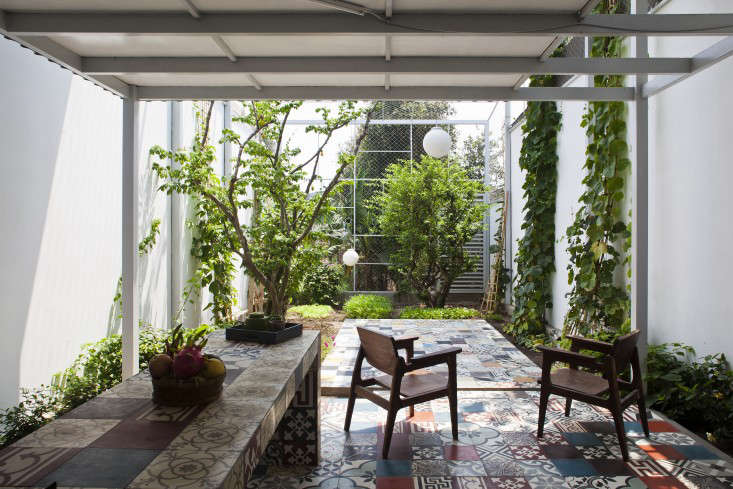 Above: Colorful tile covers the floor and kitchen counters and extends outdoors to connect the courtyard garden to the living spaces.
Above: From the street, it's possible to see all the way through the house because the ground floor–which consists of kitchen, living area, and a courtyard garden–has neither a front or a back wall.
Above: A staircase made of a single sheet of folded metal runs the length of one wall leads to the second-floor bedrooms.
Above: Tiles cover the kitchen floor and wall of counters and sink. The floor tiles flow uninterrupted into the outdoor courtyard.
Above: Upstairs are two small bedrooms.
Above: A patchwork quilt on the bed echoes the colorful pattern of the tile downstairs.
Above: An aerial view of the garden, as seen through the bedroom window.
Above: The steel facade doubles as a giant trellis for vines and climbers.
(Visited 171 times, 1 visits today)