One of our favorite greenery experts, Flora Grubb of Flora Grubb Gardens in San Francisco, is a genius at finding ways to sneak plants into the urban environment. When Grubb designed a wall of tillandsias at Napa's Bardessono Hotel, she was besieged by requests from admirers who wanted to know how to create that airy, exotic—and low-maintenance—look at home. Voilà, the company's new product: the Thigmotrope Satellite, a wall-mounted plant hook designed to support a tillandsia. Grubb designed the hook with local architect Seth Boor of Boor Bridges Architecture. Last weekend, the duo created an installation at SightGlass in SF, one of the city's latest artisanal coffee roasters; here's a DIY report.
Above: Flora Grubb and Seth Boor; collaborators and co-designers of several vertical gardens.
Above: After the layout is determined, Boor takes a drill to the wall.
Above: Grubb places the tillandsias onto the hooks.
Above: There are more than 500 known species of tillandsia, a type of bromeliad.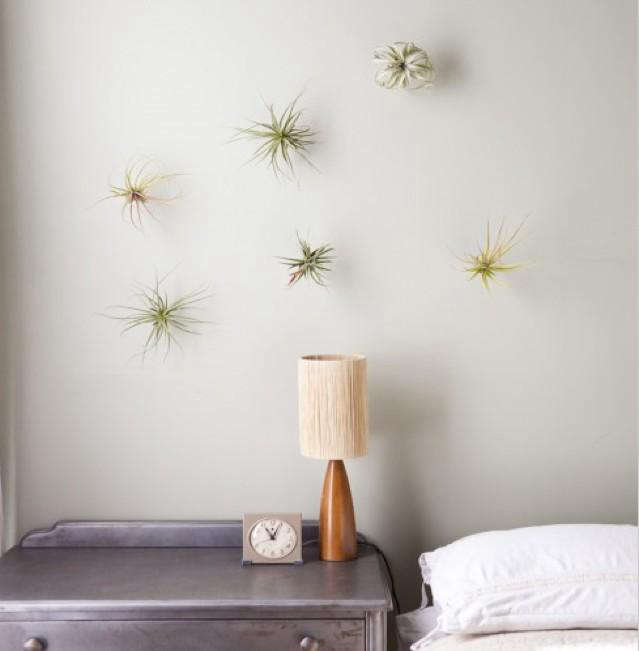 Above: Tillandsias, often described as air plants, need only bright light and an occasional misting of water to flourish, making them ideal house plants.
Above: The steel Thigmotrope Satellite is 2 inches in diameter and extends 3 inches from the wall; $40 for a set of three at Flora Grubb Gardens.
(Visited 46 times, 1 visits today)