Add instant grandeur to your garden with an urn planter. Here are ten to consider:
(NB: Some urns come with drainage holes that enable direct planting. With those that don't, it is recommended that you use an internal pot.)
Above: The Athens Cement Urn is hand cast in the USA of cement that is resistant to frost and UV rays. The planter is 29 inches high and 26 inches wide and is appropriate for indoor and outdoor use and features a drainage hole; $648 at Terrain. 
Above: The heavyweight Terrazzino Garden Urns are handmade in the USA using durable cement, original molds, and careful smoothing and finishing. Made with drainage ports on the bottom, the small urn is 24 inches tall with a 19-inch diameter, and the large urn is 27 inches tall with a 24-inch diameter. The urns are available in three finishes and priced at $229 and $329 respectively.
Above: Carved of weathered natural stone, the Alpine Stone Urn lends an understated elegance to the garden. The planter is 27 inches in diameter and 18 inches tall and does not have a drainage hole (so it can calso be used as a bird bath); $299.95 at Terrain.
Above: The simple but stately Hampton Garden Urn is made in the USA of cast stone with a Ferro Rustico finish. Twelve choices of finishes are available. The weighty urn measures 26.5 inches tall and 27 inches wide; $589.99 at Garden Fountains.
Above: Inspired by garden urns in the South of France, the Rivoli Urn is made of a concrete and fiberglass mix that will develop a weathered patina over time. Available in three sizes, ranging from 17.75 to 28 inches in diameter; $159 to $389 depending on size at Restoration Hardware. 
Above: For the minimalist, the unadorned Exeter Planter is made in the USA of cast stone. Available in a choice of 12 patinas, including gray stone as shown, it is a compact 11 inches tall with a 15-inch diameter; $84.99 at Garden Fountains.
Above: The Lead Adler Urn is made of hand-cast European lead. It features a square base and and a 21-inch-square top and is 35 inches tall. Contact Trellis & Trugs for pricing and ordering information.
Above: The Tuscan Glazed Garden Urns are made of terra cotta partially coated with a white glaze. Made with a drainage hole, the planter is available in three sizes ranging from 18 inches in diameter and 12 inches tall to 19.5 inches in diameter and 24 inches tall; $149 to $299 depending on size at Pottery Barn.   
Above: The Solid Sandstone Garden Urn is 28 inches high with a diameter of 20 inches. Custom made and priced accordingly; $950 at Stone Forest.
Above: Reminiscent of iron planters found in stately European gardens, the Glastonbury Urn is made of cast iron with a classical egg-and-dart molded rim. The finish will oxidize over time. It measures 25 inches in diameter and stands 22 inches tall; $295 at Restoration Hardware.
Above: The French Anduza Garden Urns are made in the USA of Fiberstone, a cast sand and stone composite reinforced with a fiberglass backing. The planters have a 20 inch diameter and stand 18 inches tall; $199 at Forever Green Art.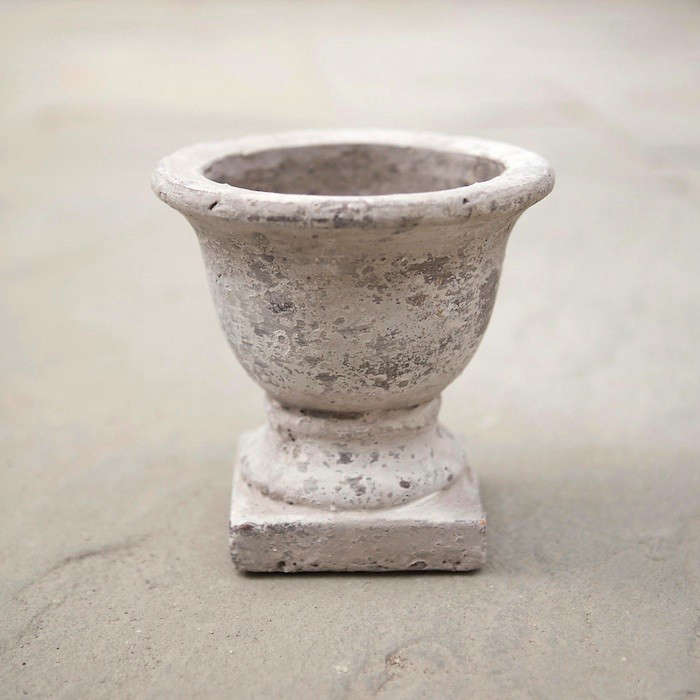 Above: Here's a petite urn planter that can fit into even the tiniest urban garden, including those limited to the indoors. The Weathered Stone Urn is made of sturdy cement with an aged patina. It measures 6 inches in diameter and is 6 inches high; $16 at Terrain. 
Interested in a one-of-a-kind vintage garden urn? There are many sources including Detroit Garden Works and Kimball & Bean Garden Antiques. Also, see Michelle's manifesto on The Allure of the One of A Kind on Remodelista. 
Dressing up your garden? See our earlier feature: A Planter with Pedigree. 
(Visited 770 times, 1 visits today)