How did Dee Salomon manage in only four months' time to transform a debris pile next to her barn in Connecticut into a flourishing kitchen garden? Good planning, teamwork, and the perfect components:
(N.B.: For images of the garden's step-by-step transformation, see "Dee's Story.")
Photographs by Katharine Huber for Gardenista, except where noted.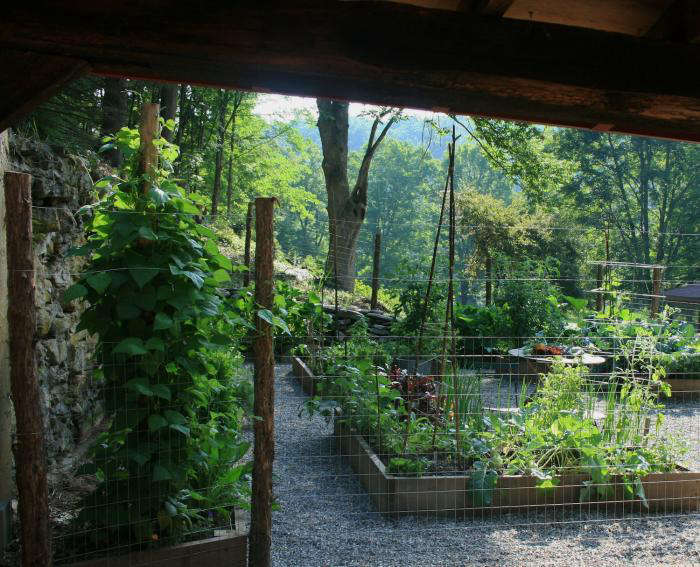 Above: Four L-shaped raised beds that form a square in the center of the garden were built, using 12-foot planks, by gardener Tim Hansen, who also anchored the deer-proof fence with unpeeled cedar posts. Mr. Hansen recommends using chemical-free, rot-resistant wood; he used locust planks for the beds. For more information, visit Black Locust Lumber. Another option is cedar; a 12-foot Cedar Raised Bed is on sale, marked down to $169 from $190, from Gardener's Supply.
Above: Trellises made of willow or bamboo create support for peas and other climbing crops. A 48-inch Bamboo Teepee Trellis is $9.50 at Gempler's.
Above: Garden designers Peggy O'Brien and Gaye Parise planted a variety of vegetables and herbs, buying seeds from Johnny's Seeds and Fedco. Another online source for seeds is Kaufmann-Mercantile, where packets of such heirloom varieties as Cilantro (L) and Costata Romanesca Zucchini (R) seeds are $3.75 apiece.
Above: Ms. O'Brien and Ms. Parise purchased espaliered fruit trees from Windy Hill Farm. A large selection of espalier fruit trees also is available from Henry Leuthardt Nurseries.
Above: Ms. Parise recommends Felco No. 8 Pruners, an ergonomic redesign of Felco's original No. 2 pruners; they're $52.10 at Felco Store. The original Felco No. 2 (L) and a pair of Felco No. 6 pruners are $64.95 apiece at Gardener's Supply.
Above: Ms. O'Brien used an organic liquid kelp fertilizer. A quart of PVFS Liquid Kelp is $9.99 from Grow Organic.
Above: Dee Salomon gathers crops in a trug she got at GRDN in Brooklyn. Another option is a Burgon and Ball Traditional Large Wooden Trug; it's £25.67 from Amazon UK.
Above: Ms. Salomon bought a French metal bistro folding table from One Kings Lane.
Above: A similar metal folding Floreal table is available from Fermob; visit the website for more information.
Above: Ms. Salomon serves dinner in a Ray Key Tapered Salad Bowl; it's £155 from David Mellor Design.
(Visited 4 times, 1 visits today)